In this post you'll learn about VPN, its use in Kodi, the top 10 best Kodi VPN 2017 and much more.
Kodi is one of the most famous and powerful media centers available in the current market. What sets it apart from other Kodi alternatives is the magnum opus features it comes loaded with. Kodi is a favorite among users due to its expandability. It comes loaded with a lot of features that allow easy customizations with a host of add-ons such as Kodi skin add-ons, Kodi Live TV add-ons and much more.

One of the most notable features of Kodi has to be its support for a variety of Live TV add-ons like Exodus, 1Channel, IPTV and more that opens the doors to a large variety of streaming media content ranging from different genres to a multitude of languages. What's more? You even get to watch sports from different corners of the world thanks to these add-ons like Sportsdevil.

All this is great, right?

We are getting to watch all this unlimited content and have unrestricted access to it. That's great but with increased strictness on certain content or maybe geographical constraints, you may get an error while streaming your favorite show or maybe even a crucial match.

Who likes any hindrance while they enjoy their favorite show? Let me tell you… nobody!

So, as a solution I bring to you: Virtual Private Network (or VPN) or Proxy Server.

What is VPN?

Virtual Private Network (VPN) or proxy server is a mechanism by which you add a layer of security to your system and it makes the internet usage more safe and secure. Come to think of it, most corporates and college campuses with wi-fi access use this method.

It simple hides your computer's true identity and gives you a virtual IP address(i.e., proxy address). IP address is an identity of your computer or a phone. It is very similar to your home address. Just like your home location is specified by an address, your computer's location is addressed by its IP.

Moving on, we can see that VPN is used to securely access a private network using Internet. For instance, if you have VPN enabled in your office, you can very easily access your work files from the comfort of your own home.

The key point here is that even with remote access, the security of sensitive data is not compromised. All thanks to VPN for shielding the actual network from monsters of the Internet.

Now if you're clear about VPN, the next obvious question you may ask yourself is- "Why do I need VPN for Kodi?"

Why do I need a VPN for Kodi at all?

Here's why…

1. Using a VPN on Kodi will give you unlimited access to media content from your favorite channels and you'll be able to stream your favorite shows such as Game of Thrones, Big Bang Theory, etc without any hindrance.

2. VPN will bypass any geographical limitations laid on the content that comes with the add-ons. For instance, BBC iPlayer can be installed only if you're a UK resident. If you're not, you're in luck because with VPN, you'll be able to watch all the BBC shows easily.

3. Secure your identity over the Internet while streaming media from unreliable resources.

4. Avoid any infringement or copyright notices with a secure VPN.
Benefits of using VPN For Kodi are listed below:
1. Security
From security point of view, a VPN plays the role of a knight in shining armour protecting our data from monstrous hackers waiting to get a hold on the sensitive information passing through various points over the internet.

Let's understand it better with the below example:

Supposedly you're on a public network. Maybe you're using a coffeehouse wi-fi. In this case, it'd be far better to be connected through a VPN. If you are on VPN, even if a hacker gets a hold of information being passed, he won't be able to do much harm.
But how?
Well, a VPN connection is secure and encrypted. Therefore, even if a hacker gets access, the data can't be decrypted or read that easily.
2. Privacy
Coming to privacy, a VPN is highly advisable for privacy protection. With so many ongoing threats such as identity fraud, spamming and phishing, you need to be more careful with sharing your personal information over the Internet.
To protect your identity and personal information, you can make use of VPN. With a proxy server attached to you, your privacy will be maintained. Because once you're online, it'd be as if you're accessing the world wide web from your VPN owner's system. Their name, IP address and personal information will be displayed keeping yours hidden under the secure layer of VPN.
3. Access to Restricted Content
Now we all have our own liking and it is not always certain that what we like would be available to us. Same is the case with some media content. Not all the shows which we love to watch time and again are available to us… yes, even online. Because of some geographical limitations or IP restrictions, you might not be able to watch your favorite content.
Well, I, a fellow media lover and explorer, do have a solution for that after all.
You might know by now. It is again VPN. A virtual private network allows you to circumvent all geographical limitations by presenting you as a user of some other country or location where that content is not restricted. It's that simple!
Once you select your favorite VPN you'll have to install or set it up on your PC. There is more than one method to install or setup VPN on Kodi. It depends upon the method you want to choose.
For all Kodi users, let's see them all.
How to Install/Setup VPN for Kodi?
Steps to Install VPN on Windows:
It is perhaps the easiest methods of all. Simply download the VPN provider you like on your streaming device, your phone or laptop and you're good to go.
Just select the country or location where the content you wish to watch is not restricted and open Kodi to stream the media. Bypassing the geographical restrictions, you'll be able to watch it on your device easily.
Steps to setup VPN within Kodi
Now you might want to use a VPN from within Kodi. It'll save the time to install VPN on all the devices where you access Kodi. Just select your best vpn for streaming Kodi media and follow the steps below:
First of all, download and install the software called OpenVPN GUI.

Next, download Zomboided Repository from Github.

Now launch Kodi>Add-Ons>Add-On Browser.

Select Install from zip file option.

Download the Zomboided Repository.

Once done, click on Install from Repository

Navigate your way to Zomboided Add-on Repository> Services> VPN Manager for OpenVPN.

Once the add-on is enabled, open it and click on add-on settings.

Select VPN Configuration> VPN Provider.

Enter the username and password.

Now go to VPN Connection tab and click on First VPN Connection.

Select the server you want to connect with.

Click Ok and you're done.
How to Setup or Install VPN for Kodi on Fire Stick
If you have a Fire TV or Fire Stick, the steps to install VPN for Kodi will differ. For streaming unlimited media using Kodi, follow the below-mentioned steps:
Select Settings

Go to System> Developer Options> Turn on the option ADB Bugging and Apps from Unknown Sources.

Now tap on the home button to go to Homescreen Menu.

Now navigate to Apps> Collections> New Releases and Updates.

From here download the app called Downloader. It is available for download at no cost.

Once it is downloaded, open it and go to browser option.

Here, type in the url of the VPN provider of your choice.

Now click on download> Direct APK download.

It may take a while for your VPN to be downloaded on your Fire Stick.

Select Install>Done.

Under Home Button>Apps and Games. Select your recently downloaded VPN.

Login with your User ID and password.

Your VPN is downloaded, logged in and you can now watch unlimited media on your firestick.

Now that you know what a VPN is and how you can get the best out of it. Let's proceed with the list of top 10 Best Kodi VPN 2017 for you:
Here is the List of Top 10 Best Kodi VPN 2017
| | | | | |
| --- | --- | --- | --- | --- |
| IPVanish | 5 | 850+ | $6.49/Month | |
| PureVPN | 5 | 750+ | $2.95/Month (2 yrs) | |
| NordVPN | 6 | 1104 | $5.75/Month | |
| ExpressVPN | 3 | 145 | $8.32/Month | |
| Private Internet Access(PIA) | 5 | 3253 | $3.33/Month | |
| VyperVPN | 3 | 700+ | $6.67/Month | |
| VPNArea | 6 | 1 per 250 customers | $4.92/Month | |
| Buffered | 5 | 30+ | $7.75/Month | |
| BulletVPN | 3 | Not disclosed | $7.50/Month | |
| StrongVPN | 2 | 500+ | $5.83/Month | |
Without further ado, let's get to the detailed discussion about these top 10 best Kodi VPN 2017
1. IPVanish (Editor's Choice)
IPVanish is one of the best VPN for Kodi. If you're running Kodi on a tablet or a smartphone, simply download the IPVANISH app and run it in the background. But if you're using Kodi on a smart TV or a setup box, you'll have to download it manually. With IPVanish, you get to:
circumvent censorship
Identity protection
Wi-fi Hotspot Security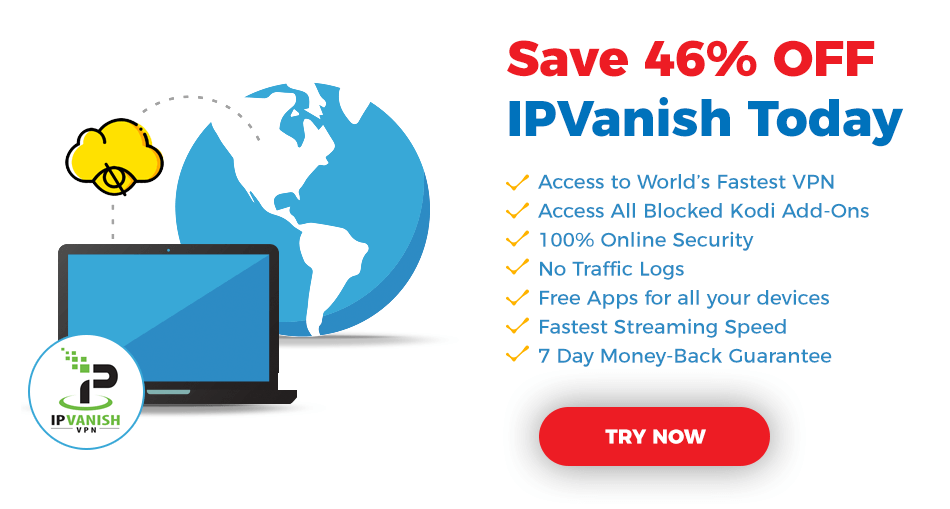 With IPVanish you get a lot of features in one deal. Some of them are:
Highlights:
Access to world's fastest VPN
Serves in 60+ countries
Unlimited Bandwidth
Strong Encryption and Zero Traffic logs
Unlimited Server Switching
Five simultaneous connections on multiple devices
24/7 customer support and a lot more
Pros
No Log Policy
24/7 Customer Care Support
5 Devices Connection simultaneously
Unlimited Bandwidth and Server Switching
Multiple payment gateways and virtual currency acceptance
Kodi Optimized VPN
Strong Encryption
Anonymous login and setup
Cons
Netflix is not supported
No live customer chat support
Free Trials not available
Doesn't work in China
Price:
$10 for one month

$8.99/month for 3 month pack

$6.49/month for annual pack
Just like IPVanish, PureVPN is another contender on the list of top Kodi VPN 2017. This proxy server is available on almost all devices and is very user-friendly. PureVPN is also an ideal choice for Kodi FireStick. It has an easy-to-install guide.
Some of the notable features are:
Highlights:
Unlimited Bandwidth
Access to 500+ servers
No Data Logs
Smart DNS
Kill Switch and DDoS Protection
Split Tunneling
User-Friendly Interface
Available in most countries even Mainland China
7 Days Money back guarantee
24/7 Live Chat Customer Support

Pros

P2P support on selected servers
Unlimited Bandwidth
Smart DNS
5 devices connection support
Kill switch and DDoS protection
User-Friendly
Multiple payment options
7 days money back guarantee
24/7 live chat support
Global network
Fast speed

Cons

Complaints regarding IPv6 leakage
Disconnection issues with some servers
OpenVPN protocol not supported
No free trial available

Apart from this, it is also available in 3 packages which I'll discuss below. The only disadvantage that comes with this VPN is that the speed of streaming media can reduce greatly.

Price:

$11/month

$9/ month for 6 months

$2.95 for 2 years

Devices Supported: Smart TV, Roku, ChromeCast, Amazon Fire Stick/ Fire TV, Laptops, PC's, Smart Phones, etc

With 534 servers in more than 47 countries, the global presence of this powerful and top VPN is not questionable. NordVPN has some very interesting features where the highlighted one has to be Double VPN. This feature encrypts your data not once but twice adding another layer of security for you.

Additional features are mentioned as follows:

Highlights:

Double VPN
Connection with 6 devices at a given time
Automatic Kill Switch
Easy to Install
One of the best user-interface available
Zero Traffic Logs
Available for one month trial period
Very reliable thanks to its strong protocol suite

Pros

Supports 6 devices connection simultaneously
Automatic Kill Switch feature
Zero Traffic Logs
Global Presence
Fast customer service support
Multiple security features
Netflix and Hulu supported
Prices are reasonable

Cons

No measures against IPv6 leakage
No custom server selection supported
Slow server speed reported in some VPN servers

Price:

$11.95/Month

$7/Month for 6 Months

$5.75/Month for 1 year

Devices Supported: Windows, Android, Linux, Mac, Raspberry Pi, and a lot more.

ExpressVPN is one of the top VPN for Koid Android, Windows, Mac, Routers and Linux. With a multi-platform support, it is fairly easy to set up, almost instantly. With VPN servers across 145+ countries and different locations, this VPN provides fairly good service.

In terms of additional features, it offers the following:

Highlights:

Simultaneous connection of 3 devices
Multi-Platform Support
Unlimited bandwidth and server switch
Unblock sites and your favorite shows including Netflix and BBC
30 days Money Back Guarantee
Live Chat Customer Care Support
Uses a variety of secure protocols

Pros

Simultaneous login for 3 devices
Multiple IP Protocols used for encryption
30 days money back guarantee
Unlimited Bandwidth
Live Chat Support
Unlimited Server Switches
Circumvents geographical restrictions

Cons

Price is a little on the higher side
Live Chat often offline
Some difficulties with Windows 10 Users.

Price:

$12.95/Month

$9.99/Month for 6 Months

$8.32/Month for 1 Year

Devices Supported: Windows, Mac, Linux, iOS, Routers, Linux, Android

The main focus of this oldest and one of the top best Kodi VPN 2017 is to provide the user a safe and secure private browsing experience. The idea behind this works by stopping the snooping of advertisers, big data collections and personal information access across the Internet.

If that was not all, it also offers very reasonable packages for the facilities it provides starting just from $6.95/month. It also offers leak protection from IPv6 and has servers across more than 3000 locations situated in 24 different countries.

An oldie on the list, it is available on almost all platforms and is even compatible with some of the older versions of the Operating Systems as well.

Highlights:

Over 3000+ servers in more than 24+ countries
Offers compatibility with most older versions of OS as well.
Very reasonable and cheap monthly, semi-annual and annual packages.
Provides IPv6 leak protection
Many payment gateways to choose from
Blocks unnecessary ads
Simultaneous login from 5 devices
Unlimited bandwidth and server switch
Instant easy setup
Good speed for US and Canada Servers

Pros

Provides security using Blowfish CBC
Ad Blocking feature
Reasonable prices and multiple payment gateways to choose from
Simultaneous login for 5 devices
Unlimited bandwidth and server switches
Easy and instant setup
Provides protection from IPv6 leakage
Cross-Platform Support

cons

Servers in fewer countries
Only 1 type of server support
Slow server speed

Price:

$6.95/Month

$5.99/Month for 6 Months

$3.33/Month for 1 Year

Devices Supported: Windows, Mac, Android, iOS, Linux

Apart from supported older version of multiple Operating Systems, It is available as a chrome extension as well.

Rated as one of the best Kodi VPN 2017, this VPN is known for its truckload of features and other Kodi VPN add-ons it comes with. Offering cross-platform support, this VPN has a very user-friendly interface. A noteworthy mention would be that it owns all of its servers which are more than 700 in number and spread across 70+ countries.

This results in a better and faster browsing experience. For Kodi streaming, it means an enhancement in streaming speed while watching your favorite Netflix, Hulu and other channel shows.

Using multiple protocols for encryption, it also comes with an inbuilt NAT firewall.

Other features are mentioned below in the table:

Highlights:

Owns all its servers.
700+ servers in more than 70 countries.
Cross-Platform support
User-Friendly Interface
Multiple protocols and firewall support
A free trial version
Other Kodi VPN add-ons that provide secure storage of media
Unlimited bandwidth and server switches
Offers a very fast and reliable speed
Prevents VPN blocking with unmodified OpenVPN 256-bit protocol

Pros

Servers owned and not rented
Cross platform support
Additional Firewall Support
Free trial version available
Kodi VPN add-ons available
Uses advanced security and encryption protocols
24/7 customer care support
Cloud VPN supported

Cons

Keeps logs that might compromise your privacy
A little bit on the higher end in terms of pricing.
Payment method doesn't include cryptocurrency such as Bitcoin

Price:

$5/Month for 12 months

$6.67/Month for 1 year

Devices Supported: Windows, Mac, iOS, Router, TV and Android

In the latter package or the premium pack, you get a Cloud VPN for Kodi along with its exclusive Chameleon Protocol support.

VPNArea uses 256-bit unbreakable encryption that keeps the intruders at bay and gives Kodi users a much-required privacy to browse through their favorite media content. Also offering shared IPs in over 60+ countries, most Kodi add-ons will work seamlessly with this VPN.

Known for its speed and amazing features, this VPN app has been awarded as the Best VPN for 2017 by bestvpn.com as well. It gives you more of a reason to give it a try coming from the experts.

We've placed it on this list of best Kodi VPN 2017 for an array of features it offers such as:

Highlights:

A big and fast VPN network with IPs over 60 countries
High speed is optimized for better browsing experience
Check how busy a server is with "Server Load Monitor"
Own DNS servers
Ad blocking feature
NO Traffic Logs
KillSwitch option available
Unlimited bandwidth and server switch
Connection to 6 devices simultaneously
Avoid IPv6 and DNS Leaks
Auto IP Switch for better connectivity

Pros

KillSwitch enabled
Global network with more than 60 countries in the loop
Server load monitor shows server traffic
Owns its DNS servers
Avoids IPv6 and DNS leakage
Auto IP switch feature
No data logs
Multiple payment options

Cons

Live chat support unavailable at most times.
No notification for connection drop
Some servers are relatively slow
Less advanced features

Price:

$9.90/Month

$8.33/Month for 6 Months

$4.92/Month for 1 Year

Devices Supported: Windows, Mac, Linux, iOS, Android

On the list of Best Kodi VPN 2017, Buffered is one of those VPN's that offers a very fast server speed. The server speed is of utmost importance to Kodi users as the difference between a good stream and a frustrated watch with continuous buffering depends on this peculiar feature.

This VPN supports almost all platforms such as Windows, Mac, iOS, Android, Linux, and Routers. Although compatible, not all versions of these operating systems are supported.

Buffered has 33+ servers across the globe that offer reasonably well speed and comes at a relatively higher price point. It has mechanisms to avoid DNS leakage and no traffic logs are kept.

Additional features are as discussed below:

Highlights:

Servers across 33 countries around the globe
Prevents DNS Leakage
Easy to install
Unlimited bandwidth and server switch
Simultaneous connection of 5 devices
No data tracking
Adds more servers on user request
Cross-Platform support
30 day money back guarantee
24/7 customer support
Very fast server speed even in countries such as UK where other VPNs fail to do so
Multiple protocols used for encryption

Pros

Simultaneous connection of 5 devices
Easy to install
Cross-Platform Support
30 days money back guarantee
24/7 customer support
Offers reliable and fast speed even in UK
Multiple payment options
Additional servers may be added on request
Provides fast server speed

Cons

Live chat not supported
Slower customer care support
Limited OS versions supported
More expensive than other VPNs
Antivirus software conflicts discovered

Price:

$12.99/Month

$9.99/Month for 6 Months

$7.75/Month for 1 Year

Devices Supported: Windows, Mac, Linux, Android, iOS, DD-WRT and Tomato

Say goodbye to geo-restrictions and enjoy all your favorite Kodi Live TV addons with BulletVPN. Similar to its name, this top VPN for Kodi aims to provide its users bullet-speed when browsing or streaming live media. Using industry standard encryption protocols, it offers unlimited bandwidth and safe secure browsing.

With multiple footprints spread across the globe with its proxy servers, your Kodi experience is bound to get better. This is not all! If not satisfied by this VPN, you get a 30-day money back guarantee as well.

Other features are specified in the table shown below:

Highlights:

Lightning fast speed
Multiple servers across the globe
Unlimited Bandwidth and server switches
Zero Data Logging
Easy setup and instant activation
30 days money-back guarantee
3 devices connection simultaneously
24/7 customer care over email or chat
Multi-Platform supported
Industry standard protocols used for top encryption
User-Friendly app for PC, Mac. iPhone, iPad and Android phones

Pros

Lightning speed provided
Multi-platform support
30 days money-back guarantee
Zero data logging
Beautiful user interface
Easy setup and activation
24/7 customer care support via email/chat

Cons

3 devices connection simultaneously which is lesser in comparison to what other VPNs offer.
Keeps session logs
Kill switch not available
No free VPN support

Price:

$10.98/Month

$9.16/Month for 6 Months

$7.50/Month for 1 Year

Devices Supported: Windows, iPhone, iPad, Android, Mac, Amazon FireTV and FireStick

Last but definitely not least in this top 10 best Kodi VPN 2017 list is StrongVPN. It is a United States based VPN providing users with a safe browsing experience. WIth over 600 servers in around 24 countries, StrongVPN has its own DNS server as well. As a result, your data becomes more secure.

This VPN uses a variety of protocols for encryption and can connect 2 devices at a given time which is not quite a lot when compared with other VPN for Kodi on this list.

It offers two features that deserve a highlight. First, an automatic kill switch which shuts down all apps automatically when your VPN connection is closed or shuts down abnormally. Second, scrambling that offers an additional layer of security. It represents your Internet traffic as normal even when using VPN.

Some other features are further specified in the table:

Highlights:

Over 600 servers in 24 countries
2 device connections simultaneously
Automatic Kill switch
No Data Logs
Has own DNS server
Additional layer of security with Scrambling
Supports all major platforms
24/7 customer support
Great for watching or streaming media in highly restrictive countries as China
Easy Setup
Provides relatively faster speed

Pros

Automatic Kill switch and scrambling features inbuilt
Owns its DNS server
Faster speed than its counterparts
24/7 reliable customer support
Easy to setup
Can unblock the China firewall

Cons

Doesn't support OpenVPN on all servers
Server switch mechanism is buggy
Only 2 devices connection supported.

Price:

$10/Month

$8/Month for 3 Months

$5.83/Month for 1 Year

Devices Supported: Windows, Mac, Android, iPhone, Routers, Linux

Closing Note

Kodi has an endless library of Live TV add-ons where you can watch your favorite media content anytime anywhere. But you might not be able to access it all thanks to certain geographical and ISP limitations.

To avoid and prevent these limitations completely, a VPN should be used with Kodi. It also ensures safe browsing and will save you from any infringement or copyright issues.

I would highly recommend downloading IPVanish for your Kodi. This VPN is a 1-Tier VPN software that does the perfect job while being cost-effective at the same time.

I hope you found this article useful and will try some of these top 10 best Kodi VPN 2017 we have presented to you.

Download a good VPN today and enjoy endless streaming on your favorite Kodi media.

You can check some interesting guides on Kodi right here.
For anything else you have on your mind, feel free to leave a comment below and stay tuned for more of Freak Sense. 😉>