Top 20 Best Kodi Skins For 2020 | Kodi Jarvis | Kodi Krypton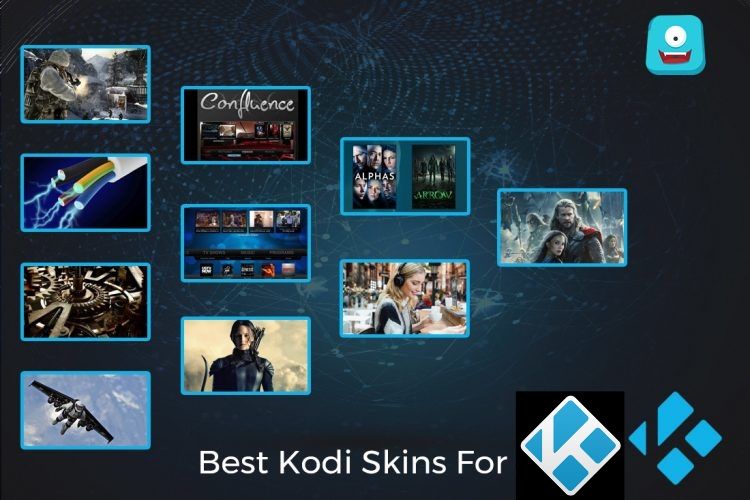 Kodi is one of the most downloaded and user media centers in the market. It comes with a truckload of features and add-ons making it expansive in itself. But yes, its most loved feature has to be the strong level of customization it supports. You can personalize and enhance your Kodi experience with best Kodi skins available for free download online.
Today, I'll be sharing the most loved and downloaded Kodi skins making them ideal to choose from and to be put on the list of top 20 best Kodi Skins for 2020, check out new kodi skins here.
But wait…
Before you know learn about these Kodi Skins, it'd be better to learn the steps required to change it first.
Below are the steps you should follow to change Kodi Skin
Once you have installed Kodi (latest version: Kodi 17 Krypton) on any device of your choice, you'll see that the default skin or theme is set to Estuary which by the way is one of the top downloaded and liked Kodi Skins of all times.
But if you want to personalize your Kodi app with any of the skins we'll be discussing further or perhaps one of your choices, you'll be required to follow these steps:
Open Kodi Interface
->
System
->
Settings
->
Appearance
->
Skins
->
Get more
Reminder: Before You Go Ahead, Get Secure
Before you go ahead and use Kodi, it is advisable to download a VPN for your Kodi.
A VPN will:
Keep you safe and secure while you stream away and watch your favorite movies online.
Circumvent all ISP limitations and let you access unlimited media content.
Help you avoid warning letters and copyright/infringement notices.
Also, your video stream speed will increase and you'll definitely want that to enjoy more movies in lesser time. So don't wait up and download the best Kodi VPN today.
Just follow these brief steps to get secure:
Signup for IPVanish here and download it.
Launch the app and get connected to IPVanish server.
Open Kodi and stream your favorite media like movies and TV shows easily.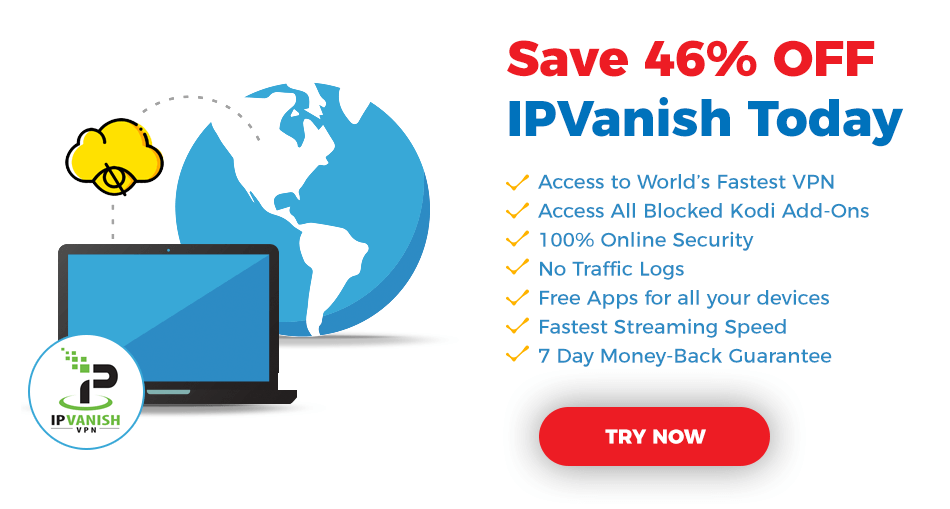 I highly recommend using IPVanish. It'll do the job as promised without burning a hole in your pocket.
Be a part of the Tier-1 VPN- IPVanish Today!
You can even check-out a detailed article on some of the best Kodi VPNs in the market.
Top 20 Best Kodi Skins of 2020 | Kodi Jarvis | Kodi Krypton | Fire Stick
Now that you're aware of the steps involved in changing the Kodi Skin, let us now move to the top 20 Best Kodi Skins of 2020 for your Kodi interface.
1. Aeon Nox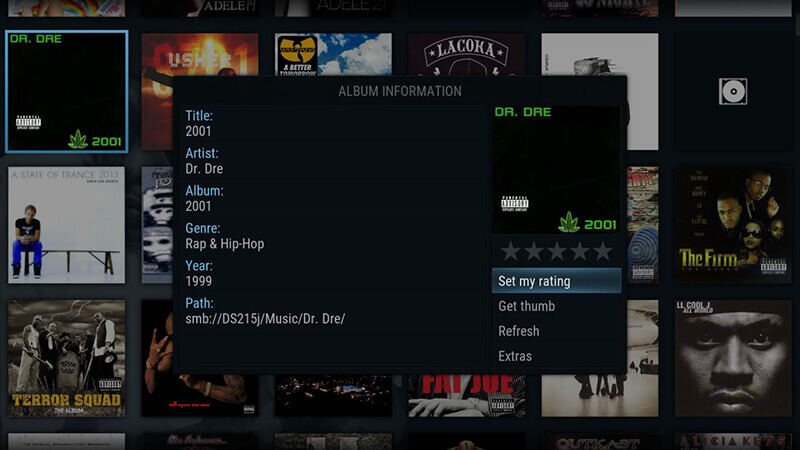 If you liked Confluence (Kodi's earlier default theme), there is a strong chance that you'll like Aeon themes as well. From a lot of Aeon themes, the one most recommended and loved has to be Aeon Nox. Because of its rare combination of beauty and easy personalization, Aeon Nox tops the chart for many Kodi users.
Moreover, all of its features don't hog down your system as it is extremely lightweight and compatible with all types of devices. It has a completely modern look while still retaining the classic feel that comes with Aeon.
Latest Version Available: Aeon Nox 5: Redux
Author:  BigNoid
2. Amber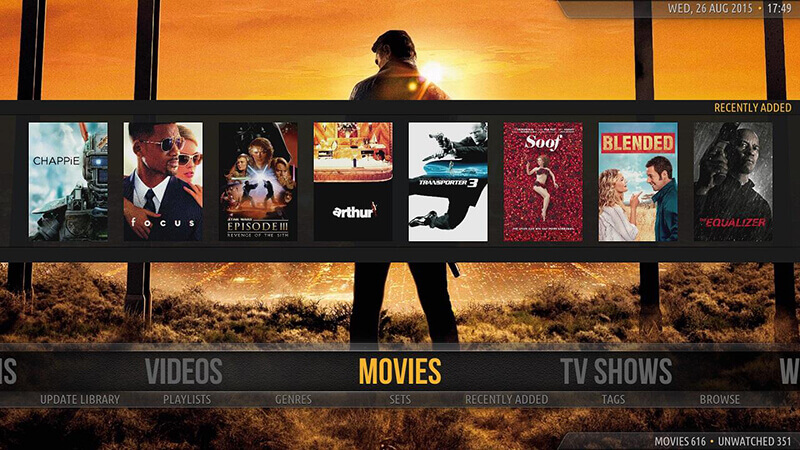 Amber is another minimalist Kodi Skin compatible with all types of devices. It comes packed with a number of features and still doesn't bloat your system. Rather, it helps in smooth navigation through your media by customizing your home shelf either vertically or horizontally (that's your pick).
Other notable features include customization of your home menu, home shelf, and your background as well. This skin uses some of the textures from MediaStream and Aeon skins as well.
Latest Version Available: Amber 3.0.7
Author: Jester, Joethepartylion, Pecinko
3. Ace
Ace is another lightweight yet feature packed skin. It comes with almost all the features you can think of and lets you customize over a ton of things in your Kodi interface.
Simply put, Ace is a light, customizable and very versatile Kodi Skin which will run smoothly on all devices ranging from your tablet to your Home Theater PC (HTPC) as well.
The only disadvantage it has is the lack of support for Live TV. That being said, it is still one of those skins that you must try at least once.
Latest Version Available: Ace
Author: MarcosQui
4. Arctic: Zephyr
Searching for a stunning yet functional interface? Look no more!
Arctic: Zephyr is the third skin in the series of Arctic skins that comes with a beautiful and functional interface providing you with all the required information in a single scan. You can customize your media layout, the highlight colors, menu and much more with this skin.
Also, it comes in
The only drawback in Zephyr is that it doesn't support keyboard and mouse navigation. So for this theme, you'll have to stick to your remote control only. Although compatible with most devices, this skin is one of the best Kodi skin for Fire TV, Fire Stick, HTPC and other streaming boxes.
Cut short, this Kodi theme is for you if you like clean, minimal and elegant interface.
Latest Version Available: Arctic Zephyr 2.3.10
Author: Jurialmunkey
5. BOX
Box skin is all about harvesting the power of basics. Highly inspired from Lightbox and nbox. It aims at providing diversity while maintaining its consistency. The principle behind it works in a manner that uses the same layout to display your media content in miscellaneous ways.
With BOX, customization is taken one step further with the facility to choose from over 15 different menus, 5 submenus and over 35 widgets included. Also, it supports mouse and keyboard navigation so you don't always have to require a remote for the purpose.
BOX is famous as one of the best Kodi skins for Fire Stick and Fire TV. It will also be an ideal choice for your HTPC and streaming box.
Latest Version Available: BOX 5.0.4
Author: DjCisco
6.Black Glass Nova
If you own a full HD TV Screen or any device with a full HD Screen with Kodi installed on it, don't forget to try Blass Glass Nova theme. This skin is easy to customize and user-friendly as well.
In a long list of features, some of them are Artwork Downloader, clear art and logo, additional widgets, etc. If that was not all, it has a mesmerizing glass effect which comes in two kinds: Black Glass mode where everything is displayed in form of Black Glass tiles and Black Glass Nova mode where these tiles become smaller and include small sizes menus and posters.
It is highly suitable and specially designed for Full HD TV Screens.
Latest Version Available: Black Glass Nova 6.0.2
Author: Tgx
7. Confluence
Wearing the crown for top downloads and most loved Kodi skin is Confluence. Earlier famous as the default skin of Kodi, Confluence is highly used and also runs smoothly on most devices. For a fun fact, it is still the default theme for Kodi 9.11 and above except for Kodi 17 Krypton that uses Estuary as its default skin.
Confluence is an ideal skin for first time Kodi users as it is easy to understand and use. Designed by combining the best of features from different skins, this skin has a feel-good look about it.
Confluence aims at providing a simple, effective interface with a fair amount of customization for the user to personalize it as well.
Latest Version Available: Confluence 3.1.0
Author: Jezz_X, Team Kodi
8. Eminence
Are you looking for a Kodi skin that aims at providing a smooth experience?
If yes, then you should download Eminence now. Eminence is a clean, clear, minimal skin that is simple yet modern. It gives you an interface which is easy to use with a few customizations on the go.
Having a minimalist design, it works pretty fast. In practice, Eminence gets you to your content quickly by categorizing the media in the form of tiles. You can even stick your favorite playlist on the homepage.
Even if it is not highly customizable, this one gets the job done pretty well.
Latest Version Available: Eminence 2.5.42
Author: Jurialmunkey
9. Estuary
Currently the default skin for Kodi 17 Krypton package, Estuary brings along a ton of features for the user. This skin comes with beautiful transitions and animations enhancing the look of the interface. By default, this skin organizes your content in rectangular tiles.
It supports customizations of visuals and has a few widgets as well. This skin has an impeccable design but one major drawback would be that you can't change the theme color within this interface.
Despite that, you can try Estuary for the simple and sophisticated interface that it excellently provides.
Latest Version Available: Estuary-[Alpha]
Author: phil65
10. KOver 2
If you are a novice but still love to personalize your Kodi interface, try KOver 2 (Kodi Overlay). It comes with a futuristic look that displays all the required information without cluttering the whole screen. Based on KOver design principle, this skin allows you to change even the smallest parts of your interface with great ease.
With this interface, you can create the builds for the view types of your skin in the snap of a finger making personalization more fun. Also, it has a lots of settings that you can play around with to get a better understanding of this interface.
Latest Version Available: KOver 1.1.0
Author: Jayz2K
11. Mimic
Mimic is another lightweight skin that works pretty well on all the devices. This skin is prominently famous because it is the combination of two highly loved skins- Aeon Nox, Arctic Zephyr, and ReFocus. This skin aims to provide the best of the above two skin's features without putting the burden on your device.
It is a streamlined add-on that allows you to highly customize your interface such as changing the color scheme and customizing your homepage as well. Moreover, within this interface, you can add customized fan-art for all your media.
This skin also comes with a built-in support for touchscreen devices making it an ideal choice for many Kodi users out there.
Latest Version Available: Mimic 5.0.3
Author: braz
12. Nebula
Nebula is among the best Kodi Skins of 2020 for a reason. It is a simple and clean package offering a lot of features as well. This skin allows a high level of customization and comes in two colored themes: a lighter color and a darker color variant.
Some of the features it offers include customization of home items, addition of fan art, Live TV/PVR support, touchscreen support, and a lot more to personalize your interface.
Nebula is a great option if you use Kodi with Full-Screen HD TV.
Latest Version Available: Nebula 5.0.0
Author: Tgx
13. OMNI
Do you know that Omnipresent means having a presence everywhere? Well, OMNI skin gets its name from this word only thanks to its highly sought after feature -the omnipresent menus. These menus can be accessed from any window within this interface. Indefinitely, this feature makes navigation in Kodi a lot easier.
Having many similarities with Mimic Kodi skin, this skin is more streamlined and lacks where customization is concerned. It offers only a few customizations for the interface. Also, it has only list and wall view for your content.
Still considering the omnipresent menus, simplicity and the ease of use, OMNI skin is one of the best Kodi skins.
Latest Version Available: Omni 1.2.0
Author: braz
14. Pellucid
Pellucid is one of the top skins available for Kodi 17 Krypton. With its clean and minimalist look, this interface is distinguished because of its strong PVR support and clear menu. Much like OMNI, this interface has a menu positioned on the left side of the screen and also provides animations like fade in for the media.
This skin is designed to give extended usability with minimal fuss involved. It is a great option for Kodi users who love to watch Live TV because of its full PVR support.
On the other hand, Pellucid is compatible only with Kodi 17 Krypton and higher versions. Nonetheless, if you are a TV buff and love to watch your media on a large screen, this is the skin you should not miss on.
Latest Version Available: Pellucid 1.2.3
Author: theDeadman
15. Metropolis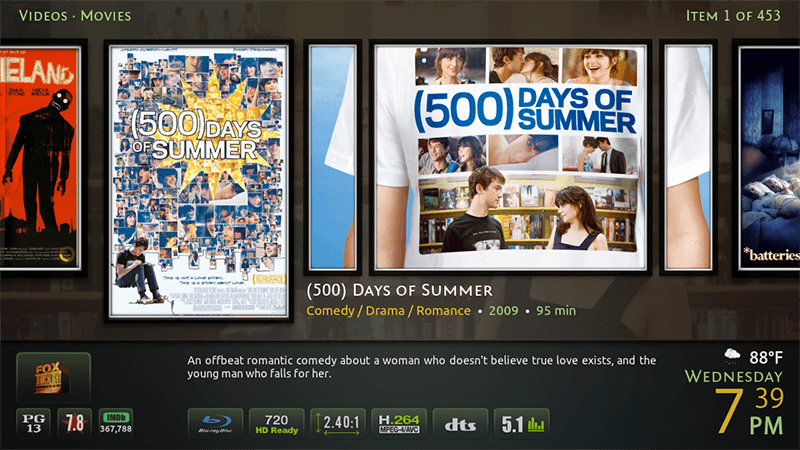 Metropolis skin aims to provide maximum amount of media information using easily readable texts and icons. Having a clean look and smooth interface, this skin is ideal for you and all your family members as well.
It enables you to customize with its customizable menus and views along with predefined multiple themes as well. Also, here you'll find additional support for custom home items, extra fanart, Live TV/PVR and touchscreen support.
Give this skin a try if you want a retro-modern look for your HTPC and other devices.
Latest Version Available: Metropolis 3.4.3
Author: jingai, Stoli, Amra
16. Rapier
Being one of the oldest Kodi skins, Rapier has kept itself up to date with the new patches and versions including all the latest features Kodi has to offer. This skin supports a highly customizable interface that you can personalize as per your liking without much hassle.
Rapier also comes in with a wide range of configurations and options for your media and still manages to deliver a clean and elegant interface for the user. A lot of emphasis is put on the usability, high degree of performance and flexibility to the user.
Simply stated, this skin manages to have it all that you'll require for a great media center interface.
Latest Version Available: Rapier 10.5.6
Author: Scarfa, Gade
17. ReFocus
ReFocus is a stunningly designed interface for Kodi. This Kodi skin comes with a lot of customizations and great features. One of its most liked features is the vertical home menu in the interface.
This skin comes with crisp and clean menus showing sharp text which is easy to read and use. Built for its utility, this skin is compatible with most devices and doesn't hang on any of them making it an ideal choice for devices having even smaller processors.
As said above, ReFocus comes with a lot of features. Some of them are artwork downloader, skin widgets, touchscreen support and access to users to customize home items.
This skin is not available for Krypton and higher versions. If using older Kodi version, ReFocus will be a great choice as a Kodi Jarvis skin.
Latest Version Available: ReFocus 3.x
Author: Jeroen
18. Titan
Do you like to browse Kodi on the go with your Phone or perhaps a Tablet? This interface is ideal for smaller screen because of its simple yet effective user interface. Titan is for those who want to have a quick and easy access through their media content without being carried away with a jungle of options available on the screen.
Having an interface similar to Windows 10, Titan has a clean look that organizes your media in a title like structure. This interface is for you if you're not a great lover of customizations and love quick navigation within Kodi.
Ported from MediaPortal, this skin gels very well with Amazon Fire TV as well and makes you feel as if Kodi is an inherent part of it.
Latest Version Available: Titan 3.7.56
Author: marcelveldt, mgonzales
19. Transparency
Moving to another one on our top 20 best kodi skins for 2020, I couldn't miss out on the artistic skins available. To describe Transparency skin in one word, it is Fanart. This skin aims at showcasing the customizable fanart in all its glory. You can now not only customize your own fanart, also view it in full screen and all the views within your interface.
If that wasn't enough, you also get every latest feature Kodi offers in this interface, pre-configured and enabled by default. It also lets the user customize home items, has TV shows logos and a vertical home menu as well.
Known for its ease of use, give this skin a try!
Latest Version Available: Transparency 10.3.0
Author: ronie
20. Xperience1080
Xperience1080 delivers an extremely intuitive and clever design for the user. This comes with a panel-based (1920×1080) skin. A very clean, modern and posh interface focuses mainly on graphical quality, smooth animations, and well-integrated functions.
The look of this interface is very much alike to that of XBox One. Its main features include custom home items, horizontal home menu, TV shows logos, among many other. The only drawback that comes with this interface is partial touch-screen support.
What's more? This great design is continued in the whole theme and can be expanded with its miscellaneous add-ons.
Latest Version Available: Xperience1080 6.0.3
Author: Piers, xhaggi
Wrap-Up
Well, it's a wrap!
I hope you found some suitable Kodi skins of your choice from the list of top 20 best Kodi Skins of 2020. Try these out and then try some more until you find the one that you'll love and hopefully with these new interfaces, you'll find your Kodi experience enhance even further.
And, if you want to look for more Kodi skins, you can always visit official Kodi Wikipedia site.