15 Best Kodi Alternatives in 2021 You Should Definitely Know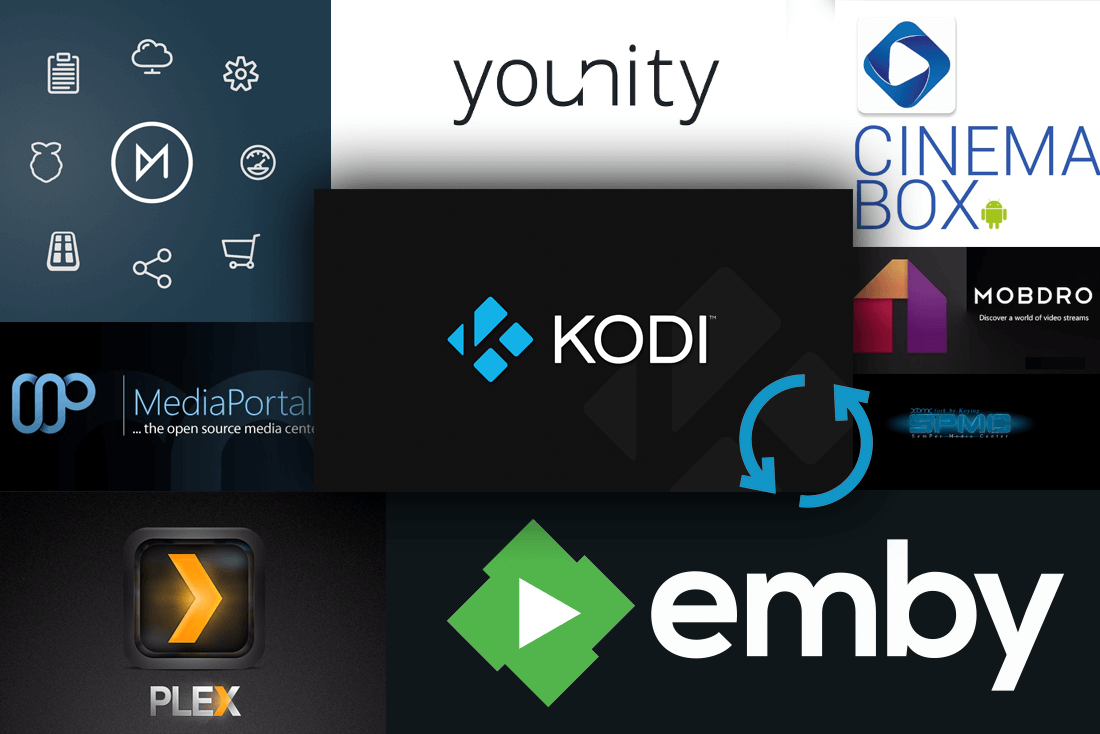 Kodi is undoubtedly one of the best media player and streaming software available in the market. So the question arises, Why should you be looking for Kodi Alternatives?
Let me tell you!
Why should you be looking for Kodi Alternatives?
Until recently, Kodi was working just fine as our favorite media player and streaming software in the market. You can install kodi on Consoles like PS4, Chromecast, Roku, etc. But now the tables have turned! With many court cases against varied Kodi addons from miscellaneous copyright holders, it's best to keep a backup ready for you to switch to, as and when required.
Reminder: Before You Go Ahead, Get Secure
Before you go ahead and use Kodi, it is advisable to download a VPN for your Kodi.
A VPN will:
Keep you safe and secure while you stream away and watch your favorite movies online.
Circumvent all ISP limitations and let you access unlimited media content.
Help you avoid warning letters and copyright/infringement notices.
Also, your video stream speed will increase and you'll definitely want that to enjoy more movies in lesser time. So don't wait up and download the best Kodi VPN today.
Just follow these brief steps to get secure:
Signup for IPVanish here and download it.
Launch the app and get connected to IPVanish server.
Open Kodi and stream your favorite media like movies and TV shows easily.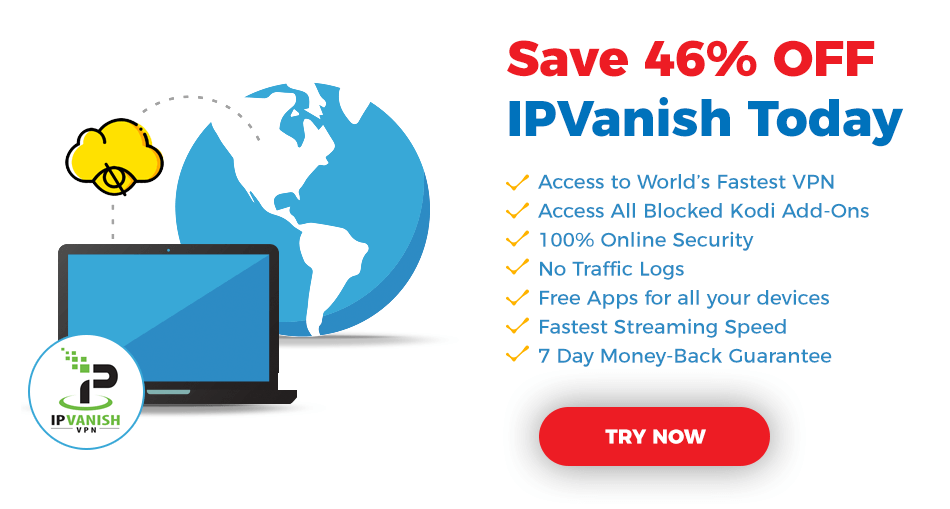 I highly recommend using IPVanish. It'll do the job as promised without burning a hole in your pocket.
Be a part of the Tier-1 VPN- IPVanish Today!
So without further ado, let me introduce to you the top ranking Kodi alternatives in the market.
1. Plex
Plex is one of the most renowned Kodi alternatives available in the market. Based on a client-server architecture, Plex is your perfect media player that can also stream your locally stored devices. Plex is your ultimate media player for all your favorite media-be it music, photos or videos of any kind. Plex will play it all for you.
Moreover, it supports a variety of platforms such as Windows, Mac, Android, Linux, Apple TV, Amazon Fire TV, Roku and even your gaming consoles (PlayStation and Xbox). Additionally, it also offers DVR support for all your live TV recordings with extreme quality. This DVR functionality is in its beta version as of now.
Plex comes in two versions for you-one is free and the other is paid. The paid version, of course, has some additional features such as access to cloud sync for offline streaming, setting up of plex home for faster account switch, an exclusive preview of new features and a lot more!
Highlights:
Based on Client-Server Based Architecture
Supports Multiple Platforms like Windows, Mac, Linux, XBOX
Offers DVR functionality in Beta version.
Comes in two variants-free, monthly subscription based
2. Emby
Emby is an open source media server which might be a better alternative to Kodi as per your requirement. It comes with features such as streaming of your locally stored media, Multi-platform support, DLNA detection, easy access to files, mobile sync and a lot more. A noteworthy feature of this server is that you can put parental control for limiting the access to certain content for your young children.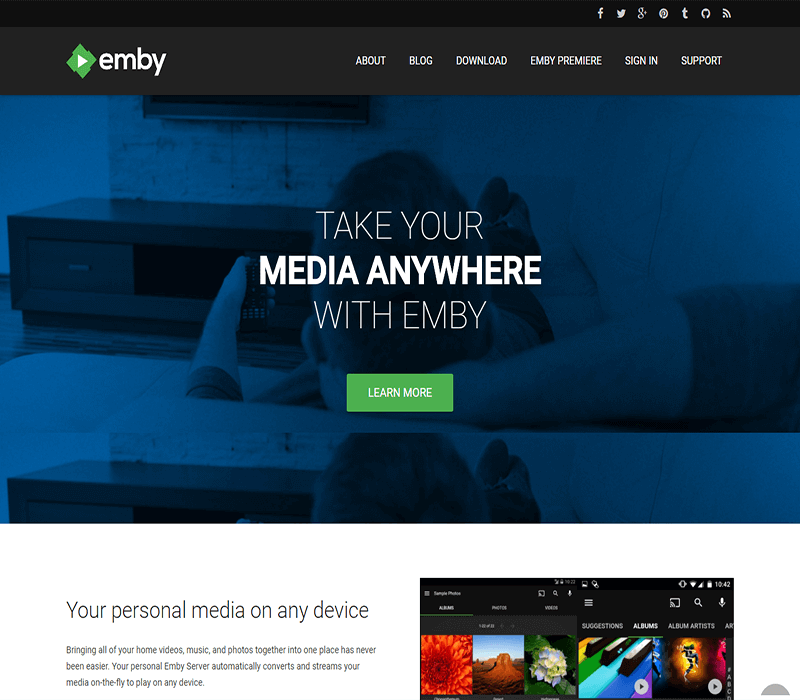 Emby comes in three variants- Emby Server, Emby TV app, and Emby Mobile App. Emby Server is your Kodi alternative for Windows, Mac, Linux. Emby TV app supports almost all third party devices such as Apple TV, Roku, Android TV, Amazon Fire TV, ChromeCast, Xbox, and PS as well.
Also, it supports Kodi TV which means that all your favorite kodi-addons will work with emby as well.
Highlights:
Open Source Media Server
Parental Control Included
Supports third-party streaming media
Comes in three variants for Desktop, TV, and Mobile
Absolutely free of cost
3. Infuse
In the list of Kodi alternatives, Infuse is one of those media players that come with a surprisingly beautiful User interface and a truckload of features.
It supports many media formats such as Mp4, AVI, MKV, WMV and a lot more. So you don't have to convert your file or compromise on the quality as it supports 4K digital media quality. It has a competitive GUI with gesture controls, drag and drop functionality, split-screen and picture-in-picture feature and a lot more.
There's more!
It also allows you to import videos or other media from third-party apps like Google drive, iCloud, DropBox, OneDrive, etc or you can stream effortlessly without any syncing. Simply browse, download and play your favorite media with Infuse.
Highlights:
Stunning User-Interface
Multiple Media file format support
No syncing required for streaming
Supports 4K media quality
Gesture Controls supported
4. Terrarium TV
Terrarium TV is an application available on Android Play Store. It supports more than 504K videos including movies and TV shows. Here you can download, stream and watch your favorite media online without paying a single dime. It's absolutely free.
The platforms it supports include Android TV, TV Box, Fire TV, and Fire Stick. Unlike Kodi, it doesn't support 4K media but is a great choice for 1080p Full HD media.
Additional features include multi-language subtitles support, genre selection and customization of your favorites list.
For all the movie buffs and TV show enthusiasts, this is a perfect Kodi alternative to Android.
Highlights:
Available only for Android platform
Absolutely free
Supports 1080p HD quality but not 4K media
Multi-language subtitles
– Ideal for Movie buffs and TV enthusiasts
5. Stremio
If you're looking for a media center for video content aggregation, you can give stremio a green signal. Stremio is the app for you if you want to discover, organize and watch all your video content at one place.
It also supports add on for web channels such as Netflix and streaming from third party applications like watch.tv, youtube, filmon.tv, amazon, itunes and more!
It allows streaming and watching your local media content to a bigger screen as well. You can download it from Play Store or App Store as well. A desktop version for Stremio is also available for you to try!
Highlights:
Appropriate for Video content aggregation
Supports remote control access
Available for download on Play Store and App Store
Supports integration with third party apps like watch.tv, amazon, etc
6. ButterProject
ButterProject is an open-source application that provides 100% free and legal content for you to stream and watch. Built on the latest technology, it offers a flexible and modular design that can be used as a base for any streaming application on the market.
It is one of the forked apps from Popcorn Time, another open-source app. This application is P2P (peer-to-peer) based and supports all major platforms like Windows, Mac, and Linux.
In a nutshell, you can skip the downloading and watch direct content with Butter using torrent streaming.
As of now, this project is under development and a demo version of this app is available on GitHub for download or customization as per your liking.
Highlights:
Open-Source Application
Provides 100% legal and free content
Flexible and modular design
Supports all major platforms
Currently available in demo version
7. OSMC (Open Source Media Center)
Open Source Media Center better known as OSMC is a Linux based open-source media center having a Kodi like interface. It can be downloaded on various platforms such as Windows, Mac and Linux based systems directly from the official website.
If you are all about open-source technology and love to customize your software, you should download OSMC right now. It comes along with a lot of happening features that keep getting better with its regular updates and patches.
Some of the notable features include a simplistic yet sophisticated user-interface, multiple file format support and not to be missed, its very own app store making customization a lot more fun!
Try it now to give your HTPC experience a new enthralling twist.
Highlights:
Linux based Open Source Media Center
Kodi Like Interface
Regular patches and updates
Strong online community support
Better HTPC experience
Has its own app store
8. MediaPortal
MediaPortal is another open source alternative of Kodi. It is a complete Windows-based media centers with a Kodi like interface. If you have a Windows device and are currently using Kodi, you won't have much trouble switching to MediaPortal. It supports streaming of media, live TV, radio and a lot more.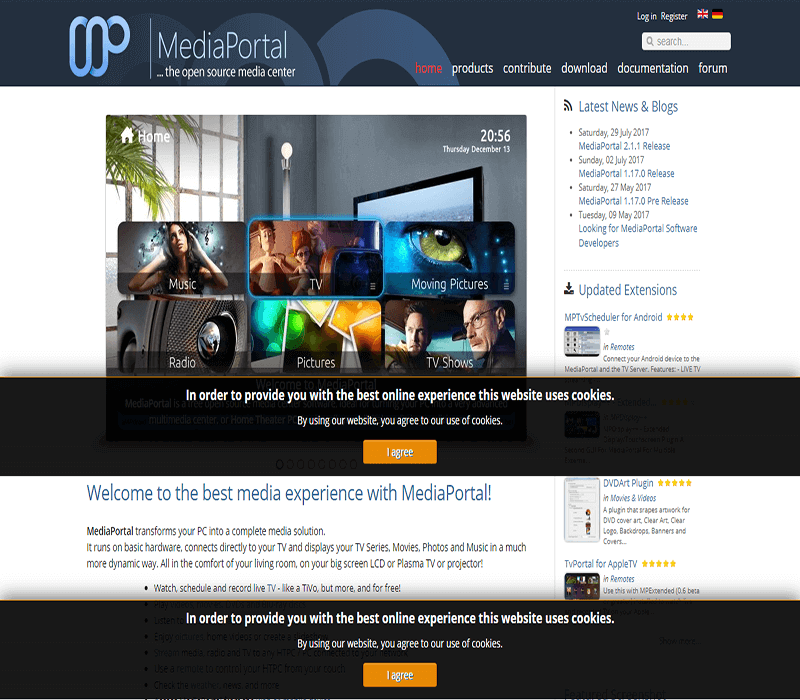 With an extensive library of add-ons and plugins, it is expansive on its own. Other features include live TV recording, slideshows, news and weather access, remote control access, user-Interface customization.
If you are an Android user, you can download aMPdroid and for iPhone/iPad users, an app called CouchPotato is available for remote access and control of your MediaPortal.
Highlights:
Windows Based open-source Kodi Alternative
Extensive library of plugins and addons
Remote Control Access
User-Interface customization
9. Splash
Splash is not just your any other media players. Rather it is free to download media player that lets you enjoy your videos at a high quality without burning your battery. It is designed to provide you with the best and optimized video quality for all your social media platforms. Also, the conversion quality is stunning.
Splash 2.0, the latest version integrates all the latest trending technologies including NVIDIA® NVENC, AMD APP, and Intel® Quick Sync Video to enhance your media experience.
With predefined themes, you can also customize your user-interface with Splash. A new feature called Smart Seek is also available that lets you select a particular clip from your movie without disrupting the current playback.
Currently, Splash supports only Windows platforms and not Mac. For Windows, it supports XP, Vista, 7, 8, 8.1 and 10 versions.
Highlights:
Free of Cost
Battery Friendly
Available only for Windows platform
Has a Smart Seek feature
Integrated latest technologies like NVIDIA® NVENC, AMD APP
10. CinemaBox
CinemaBox is a new app on the block. It is developed by the programmers who developed PlayBox HD. Since that app has been discontinued, let's talk about CinemaBox. For all the cinema and TV show lovers, this app is a must. It allows you to stream your TV shows and latest movies on the go!
More features include HD quality support, genre classification and a great user-interface designed for your phones.
CinemaBox is available for download on both Android and iOS. You can also run it on your PC using third party app -bluestack.
Highlights:
Ideal for TV shows and movie lover
Latest Movies and TV Shows are available
HD quality support with genre classification
Great User Interface
11. Younity
Younity is another home media server that can be accepted as one of the best Kodi alternatives in the market. With Younity, you can unify all your media present on your devices at one place and access it from anywhere without using any extra storage on your phone or tablets. Simple download the app, browse and stream any of your media.
Want to know the best part?
No syncing is required with Younity. You can think of it as your own mobile streaming service where you can watch any of your media stored on your PC to any of your other devices-computers, tablets, or mobile phones. Also, using a third party app like ChromeCast you can stream the media onto your Smart TV to get a Home Theater experience.
Younity is available on all major platforms like Android, iOS, Windows, and Mac. You can go for its free download or subscribe to a premium membership to unlock additional features.
Highlights:
Integrate all your media content at one place
Remote control access
No syncing required
Available on all major platforms
Comes in two variants: Free, Premium Membership
Squire
Squire is one of the best Kodi alternatives for iOS and Mac users. It is a simple and minimalistic media center that organizes all your video and audio files in a well kept and updated library.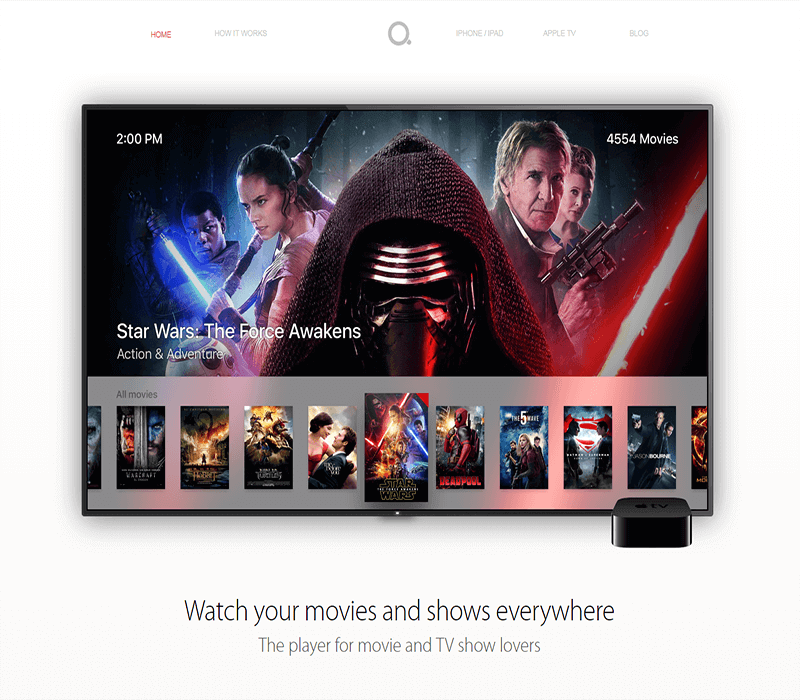 One of its notable features includes Squire Helper, an always running menu bar app that segregates your content into two tabs: Movies and TV Shows. Open Subtitles Integration helps you find subtitles on the go.
With Squire, you can also view your local library content which will automatically be synced and kept update so that you can stream it anywhere.
Other features include Cloud Sync Support, Plex integration, additional TV and media content, show ratings and cast along with its meta description all at one place.
As of now, Squire app supports only iOS and Mac platforms with added support for Apple TV.
Highlights:
Simple and minimalist design
Supports only Mac and iOS platforms
Open-Subtitles Integration
Plex Integration and Cloud Sync Support
13. HomeNet Local Media Server
HomeNet Local Media Server is a lightweight alternative to highly complex Plex discussed above. With HomeNet your files are easily organized in an indexed manner. It is a very minimalist app with a handful of features if you only want to organize and stream media on your Windows LAN (Local Area Network).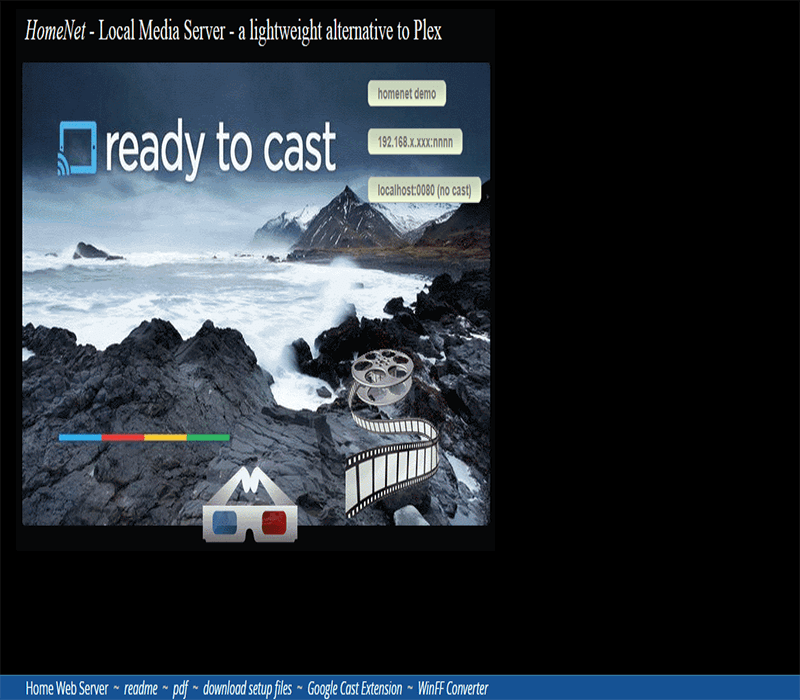 An additional plugin VLC "Transcode Anything" has been updated in HomeNet LMS so that you can watch any media file or stream video/audio of any type in your web browser without causing any hassle.
HomeNet Local Media Server doesn't work with Internet Explorer and supports only Google Chrome and Firefox browsers as of now. So keep that in mind when you download the zip for this media server.
Before you download, you can also try its free online demo for a taste of what you're going to get.
Highlights:
Lightweight alternative to Plex and Kodi
Streams content on your Windows LAN
Multiple media file formats supported
Online demo is also available
14. SPMC
Semper Media Center or SPMC is a close replica of Kodi app. As a matter of fact, it is a forked Kodi app meant as a Kodi alternative for Android users. It is designed and built by former Kodi Team Developer Koying to create fixes for certain problems faced by Kodi users on Android Platform.
It has all Kodi-like features and user-interface with additional plugins to fix certain issues you might have faced with Kodi. This app can also be integrated with Kodi and used parallelly.
Additional fixes include immediate saving for skin setting, voice recognition for soft keyboard, voice search. DTS and UTF formatted labels have also been fixed. More features added in this Kodi clone include HQ Scalers, GUI selection for hardware decoders and HD audio passthrough.
Highlights:
A clone app of Kodi
Fixed Bugs associated with Kodi on Android platforms
Great User-Interface
Can be used simultaneously with Kodi
Available for free of cost
Supports only Android platforms
15. Mobdro
Mobdro is a free video streaming app that can be considered a good Kodi alternative for Android users. It has a huge library of online media content in multiple languages that you can watch and enjoy.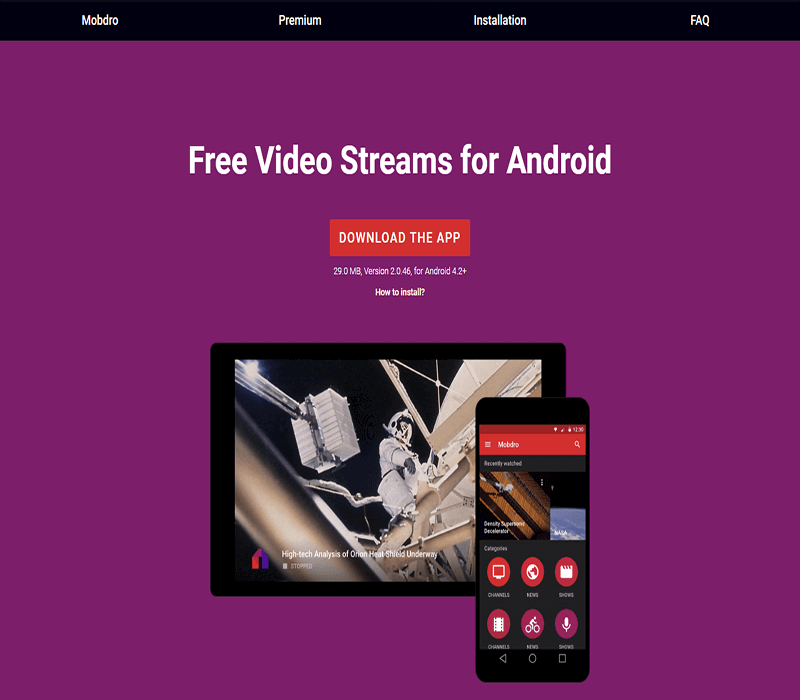 In terms of video quality, more work needs to be done. With Mobdro, you can simply discover the media of your choice in multiple languages. Also, you can bookmark your favorite videos for a later watch and even download them for online access as well.
Mobdro can be downloaded from Android Play Store. It is an app compatible with Android and Amazon Fire TV Stick as well and available at no hidden cost-it's absolutely free and worth a try.
Highlights:
Free of Cost
Good Kodi alternative for Android users
Vast library of online media content
Download of media also supported
Video quality can be improved further
Compatible with Android and Amazon Fire Stick
In Summary
Now that you know that multiple Kodi alternatives exist in the market, you have a choice to select from the best of apps available in the market. Know your requirements and download one that matches your needs.
For more such content and posts, subscribe to us!
Also, don't forget to take a look at top ChromeCast alternatives we have for you.
Till then, take care and keep on reading!