A Beginner's How-To Guide for Streaming Kodi on ChromeCast
Unless you are living under a rock, I'm pretty sure you're aware of the technology outbreak in the multimedia industry.
With the launch of Smart Gadgets such as Smart TV's, Kodi on ChromeCast has turned user experience at a 360° angle.
"Want to have a cinematic experience at home or maybe watch a favorite artist play live on your TV screen?"
Let me help you re-discover a way to have more fun with your gadgets.
All this and a lot more is possible once you get your Smart TV acquainted with Kodi.
But first, let's talk about the elephant in the room: What this "Kodi" really is.


What the heck is Kodi?
Simply stated, Kodi is an open-source multimedia software that is capable of playing or streaming any type of media and so much more. Additionally, it comes with a variety of add-ons like Live TV add-ons, Program Add-ons, Kodi Skin add-ons and more.
What sets Kodi apart from others?
UPnP (Peer to Peer share in Kodi)
Remote Control Access
Live Radio Shows
Recording of Live Shows
Self-Recording
Weather Report
Slideshows and Presentations
Live Streaming of Music, Tv Shows, Movies
Games and Anime Access
1000+ Add-ons
Attractive User-Interface
Multiple Skins
Web Interface Support
Online Community
Loaded with multiple characteristics, the best part of Kodi would be that it is an open-source software which you can customize as per your need.
Not to be forgotten is a very important fact that this extremely amazing software is compatible with multiple devices doesn't cost a dime. IT IS FREE!!!
Now assuming we have downloaded Kodi, have a smartphone and a smartTV, the question arises,
"how do we connect it to get the best of our gadgets?"
Reminder: Before You Go Ahead, Get Secure
Before you go ahead and use Kodi, it is advisable to download a VPN for your Kodi.
A VPN will:
Keep you safe and secure while you stream away and watch your favorite movies online.
Circumvent all ISP limitations and let you access unlimited media content.
Help you avoid warning letters and copyright/infringement notices.
Also, your video stream speed will increase and you'll definitely want that to enjoy more movies in lesser time. So don't wait up and download the best Kodi VPN today.
Just follow these brief steps to get secure:
Signup for IPVanish here and download it.
Launch the app and get connected to IPVanish server.
Open Kodi and stream your favorite media like movies and TV shows easily.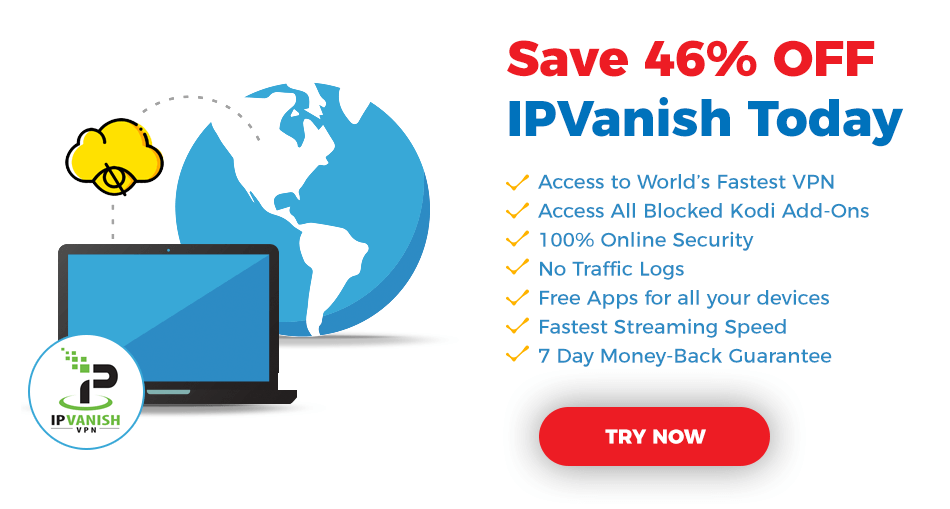 I highly recommend using IPVanish. It'll do the job as promised without burning a hole in your pocket.
Be a part of the Tier-1 VPN- IPVanish Today!
There is a list of streaming devices that can help connect Kodi with our smart Tvs. To name a few, we have Roku, Apple TV and ChromeCast.
It depends upon you which streaming device you'd want best suited to your needs. For instance, if you simply want to experience your TV turning into a Kodi Box, ChromeCast would be the best device hands-down.
"ChromeCast"- What is that?
Well, ChromeCast is a streaming device launched by Google which looks something like a dongle and makes your digital devices connected to each other in an efficient manner.
Now let's get to the main thing.
How do we stream kodi to chromecast?
Say it's Sunday and you want to relax with some popcorn and binge watch your favorite series.
Just follow these simple steps and you're good to go:
Connect ChromeCast Box to your TV with an HDMI Cable.
Open the Google Cast app on your phone and select "cast screen/audio" option.
Once you have done so, select your Smart TV from the devices option.
On other hands, simply open Kodi app and play your video.
The video will simultaneously play on both devices so make sure to keep your Phone charger handy.
What? Wait a minute!
Don't have access to your charger or power bank?
Don't panic we have another "battery friendly" option as well.
But beware, it is a bit tricky and tedious as well. So better keep your notebooks nearby!
For this method, you will have to download two things:
One is a Local Cast App which plays a key role in this method.
And another is a "Playerfactorycore.xml" file from the official Kodi Website.
Once you have access to this file, copy it for the next step.
Using your File Explorer, navigate to android-data-org.xbmc.kodi-files -.kodi- userdata and paste your file here.
Open Kodi App and play your media while selecting your TV option from Local Cast App.
This will keep playing your video on the TV without draining your phone's battery.
Now there may come those times when you have your phone occupied with something else.
Hey, don't worry. You can still use Kodi with another gadget of yours.
Any guesses?
Yes, you are right. It's your mighty laptop.
All the steps would remain the same as in the first method that we had discussed with of course, just a slight change.
You'd have to download the desktop version of Kodi and add the Google Cast extension to your Chrome Browser.
What's more?
You can even take advantage of quick Kodi Keyboard Shortcuts and navigate through Kodi like a pro.
Next step is just the same.
Play the video on Kodi and it'll start streaming on your choice of the media device.
But wait… the million dollar question is yet to be answered
"Which ChromeCast device should I buy?"
Simply put, it is quite easy to decide that.
ChromeCast comes into two variants: ChromeCast and ChromeCast Ultra. The only difference between these two is of the picture quality they support.
Where ChromeCast supports maximum of 1080p HD quality, its counterpart offers around 4K HDR level audio and video quality.
If your Smart TV has 4K support, it's better to go with the latter else ChromeCast is the better-suited device for you.
Herein, I hope that all your queries were answered.
But let's not forget that technology keeps changing every second.
So while you are enjoying your Kodi on Google ChromeCast, keep up with the recent trends that come with these softwares to reap the utmost benefits from them.
For more information and learning, you can always visit https://kodi.tv/
Be a proud owner of Google's ChromeCast here


Download Links to get you started!
Download your Kodi App Now.
Here is your link to Stream away with Google Cast and Local Cast.
This will surely help you save some of that precious bytes.
Anyhow, Nevermind my nerd joke and Happy Streaming!!!!
Also, don't forget to share your valuable feedback in the form of queries and suggestions below.
Always happy to respond.