Best Discord Bots to Enhance your Server Experience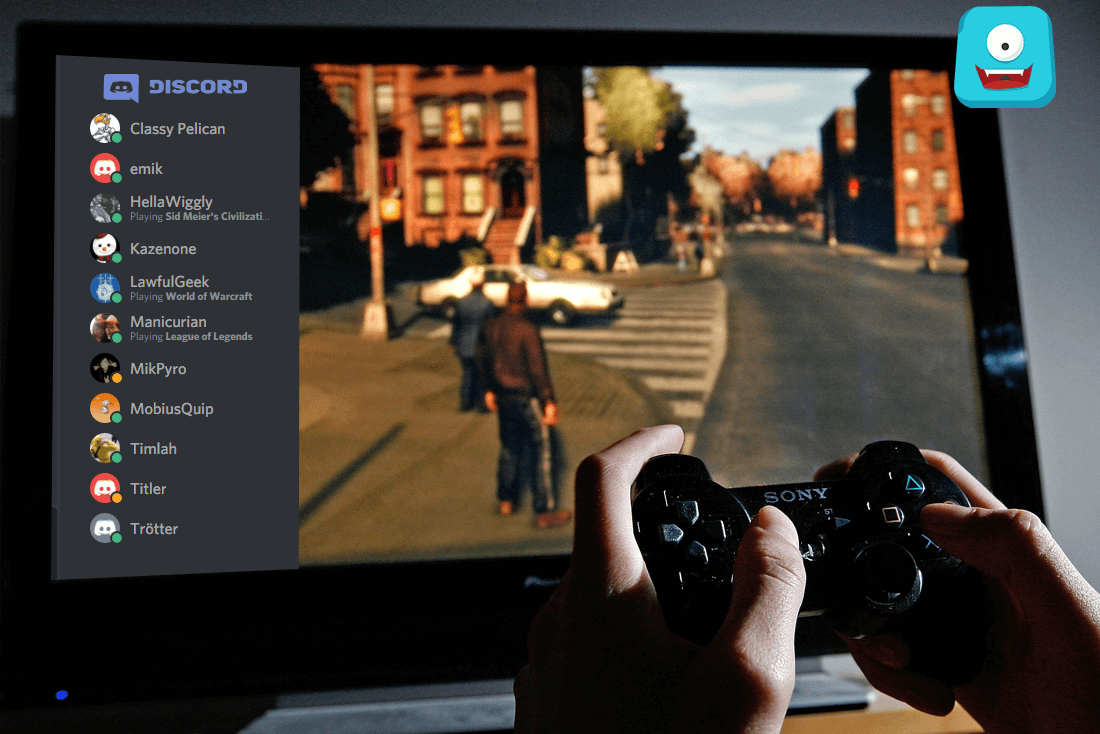 Discord is a free text and voice chat app for gamers which works on both phone and desktop.
With Discord, everything gets better as they even support bots for a better-enhanced server experience. There are multiple bots to choose from which might just confuse you.
So I'll share some of the coolest and popular best Discord bots to make your selection easier.
Before we proceed to the Discord bots, let's know a little bit more about Discord and how to report someone on discord.
What is Discord?
Discord is a free text and voice chat app designed especially for gamers. This app was designed to overcome the shortcomings of other similar apps and give the users an interface where they can interact with their team players and friends without losing the focus of their games.
This app works well on both phones and desktop, and even in your browser.
So now you can create your own multiple servers to enjoy a conversation with your friends without paying a hefty sum to TeamSpeak for their servers or rely on Skype that hogs down you CPU ruining the effective gaming experience.
Discord offers a plethora of features which are listed below.
Features:
100% free communication with friends, teammates and fellow gamers.

Provides IP and DDoS protection.

Offers browser support.

Works on both desktop and Phone.

A dedicated Mobile application.

Friends list feature.

In-game overlay for better focus on the game.

Minimal CPU usage (no more hang-up on your system).

Low latency as compared to Skype and TeamSpeak.

Create custom hot keys.

Direct messaging option.

Enable smart push notification.

Customize permission for members on your server.

Individual volume control option.

Direct Messaging and Modern text chat platform.

Multiple channels available.

Automatic failover supported.

Gif's supported for better chat experience.

Easiest and fastest setup (only takes 10 seconds).

Easy to use UI for better management of your server.

Supports echo cancellation, noise suppression, modern jitter buffer, Etc.
Discord is an ideal chat application for all the gamers out there. Once you download this app, you can create multiple servers and manage them easily as well. Now, if you have one already, you must know that creating a server on Discord takes only a few minutes.
Also, it is very crucial to plan that game strategy with fellow team members to conquer the next task as well. Discord has enabled bot support. With the help of these cool Discord bots, you can add a pinch of awesomeness to your server.
Discord bots help to moderate and automate some tedious tasks related to your server. It also helps in an easier interaction among server users.
Now we know that Discord is great and what makes it even greater these cool Discord bots. But do you know that there are hundreds of them to choose from?
So, it can get really difficult to find what you're looking for. To ease this difficulty, I've compiled the list of some of the best Discord bots to enhance your server experience.
Here we have the List of the best Discord bots
1. Discoid
Discoid is one of the best bots for Discord. With Discord+Droid becoming discoid, this bot is made in C# and makes your Discord server more powerful in a fun manner.
This is one of those popular Discord bots that let you have fun without compromising on the major utilities they aim to provide.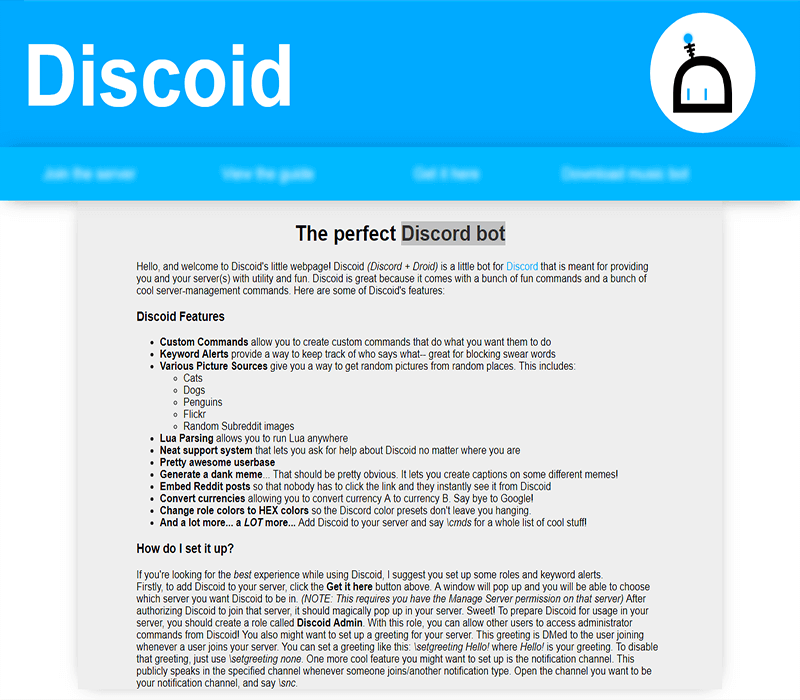 With discoid on your server, you can create custom commands for greeting your users or maybe to create and share memes. Also, you can get notification of your and fellow mates statistics or just mute the annoying members as well.
Discoid also lets you enjoy media from apps like Youtube and Soundcloud. Just put all your favorite songs or media in a queue and your discoid bot will take care of the rest of the work.
Features:
Create your own custom commands

Avoid and block cuss words with Keyword alerts

Send gifs or random pictures with various picture sources

Efficient support system

Create customized captions on different memes

Currency conversion feature

Change Discord's default role colors to Hex colors with discoid

Setup your customized notification channel
2. YAGPDB (Yet Another General Purpose Discord Bot)
YAGPDB, an acronym for Yet Another General Purpose Discord Bot is one of the most popular and best free discord bots you'll find anywhere on the Internet. This bot for Discord aims at providing all-round server management with all its required tools and an access control panel.
This control panel is also one of the highlight features of this best Discord bot as it allows you to manage moderation queues and even choose auto-moderation settings.
Still, in its alpha version, this bot for Discord offers a small but powerful list of features.
Features:
Notification for general activities like a member joining, leaving or topic change, etc

Custom commands can be created

Embedded Reddit feed

Streaming notifications

Custom settings for commands per channel

Automoderator

Auto-roles creation

Statistics and simple reputation system

Utilities for better server moderation

Some fun commands (of course!)

Feed for youtube uploads

Control Panel Log
3. Dyno
Dyno is another uber cool bot you have on the list of best Discord bots. This bot owes its popularity to the fully customizable, intuitive and simple web dashboard it comes with.
Apart from that, it comes with a plethora of great features like custom commands, music, anti-spam moderation, reminders, google search and a lot more.
With Dyno, you can customize your interface and dashboard. Not just that, you can create special alerts and announcements for special announcements or maybe to say hi to a new user and bid farewell to the leaving member.
You can also mute individual notifications or keep a timer on them as well. To avoid any spam, Dyno has an inbuilt anti-spam feature protecting you from any kind of junk.
Other features of this free discord bot are highlighted below
Features:
Timed mutes and player bans

Moderation Logs

Advanced and Fully configurable Auto-Moderation

Inbuilt Anti-Spam feature

Fully configurable web dashboard

Create special announcements and special alerts

Listen to music with youtube

Custom commands

Auto Roles

Let members assign roles/ranks with joinable ranks

Post an AFK status

Google Search

Reminders

Free of cost
4. Rh1-NO
If you're looking for most popular discord bots that will make your server management easier in an effective manner, go for RH1-NO. This cool discord bot is one of the finest in the market till date.
Perfect for auto moderation, this bot will help you let your hair down and do all the work by itself.
Apart from basic moderation tools, it also offers other features like rate limiting, anti-spam, word filtration, chat commands and more. It also helps to set up custom rules for your different servers.
If you love to customize, then you'll be happy with Rh1-NO. At present, it offers around 16 different options for customization. Also, for additional security, it keeps a server log as well.
Being a free Discord bot, RH1-NO is ideal for anyone handling their discord server by themselves.
Features:
Auto-moderation

Custom rules for multiple servers

Rate limiting

Anti-spam feature

Word filtering

Custom Chat commands

Lots of Customization options

Server log

Maintains a Mod log

Build on python

Free of cost
5. Septapus
Septatpus is very popular and regarded as one of the best Discord bots for Youtube Gamers. This bot allows the users to create avatars and even custom comics during their chat.
It enhances your discord server by adding fun to it with custom comics, charts and even puts huge reminders and emojis in your chat. Your players will definitely stay entertained with Septapus on your server.
As a youtube gamer, you'll have the facility of viewing stats and getting notifications. Moreover, you can even get the list of top youtube gaming streamers with this bot. Other specifications that make it a fun and cool discord bot are mentioned.
Features:
Cool Discord bot for adding a fun element to your Discord Server

Create custom avatars and make it appear big or huge on the screen

Create custom comics and charts

Post emojis on your chat.

Play trivia

Set reminders

Get youtube stats and notifications

View a fellow youtuber's details

Know the most played games by you or some other user.

List of top youtube gaming streamers.
6. Aethex
Being a very adaptable and multipurpose bot is what makes Aethex one of the best Discord Bots. It comes with a plethora of commands and features. Features ranging from comprehensive moderation, fun commands, utility commands, music commands, game integrations, social systems and more.
Aethex has its features segregated into the above-mentioned sections. If you're on the hunt for an all-rounder bot for your discord server, give Aethex a huge thumbs up because it does just that.
As a Discord server owner, the moderation tools will let you to quickly ban, kick or mute other server members and make moderation fast and effective. Aethex bot allows you to create automated systems for different players like setting up a greeting message or getting the user's stats.
With the social system, the server owner can create reputations, ranks, and levels for easier server management. On the fun end of this bot, users can flip coins, share images, roll the dice and do lot more exciting things.
If we talk about music, then you can stream music from youtube and Soundcloud or source your own files and this discord bot will take care of the rest.
Features:
Advanced permissions system

Timed Moderation and Mod Logs

List user channel or server information

Set custom commands

Create announcements

Play songs from Soundcloud and youtube

Set up a custom music channel

Customize user's' queue limits

Customizable queue system

Fun commands like Google search, image search, coin flip, dice roll, etc

Game Integration with Steam and ROBLOX

Increase user engagement by creating a custom social system.

Create own levels and reputation system
7. Discord Dungeons
Are you looking for some cool Discord bots for your server? It will not get any better than this!
Discord Dungeons is a unique bot that offers endless hours of fun activity for your server users. It allows you to play an RPG Dungeon game with your fellow server users. This game is completely developed with new levels added every day.
The best part is that you can play it either individually or within a team. Also, it is available on all platforms where Discord works. So, now you can kill time by playing this awesome game on your phone as well.
Just go to your discord app and if you have the bot installed, you're good to go with lots of levels to conquer and coins to collect with your friends.
So, the next time you're looking for a breather from the current game, just go to your Discord app and start playing this great game with our Discord Dungeons bot.
Features:
Utility and fun combined in this Discord Bot

Giphy and Twitch Integration for expressive chats

Auto Moderation

Softban feature included

AFK status enabled

Playback music option

Customized volume settings

Create custom messages

View users list and individual user's stats

Youtube search

Fun commands like shoot, kill, revive or stab

Strong online community of users
8. Hexacircle
In a compilation of 10 best Discord bots, Hexacircle comes a full circle (pun intended!) with a variety of fun and utility features and commands it has to offer. Now make your chat more fun by adding expressing GIFs to it.
Talking about moderation features, you can ban a particular team member in two ways: either by permanently banning them from your server or temporarily using Softban option. This will give the banned user another chance to improve their ways as well.
Now for gamers, it also comes with an AFK status. For all your entertainment purposes, it has a playback music option. You can even customize the volume as per your liking.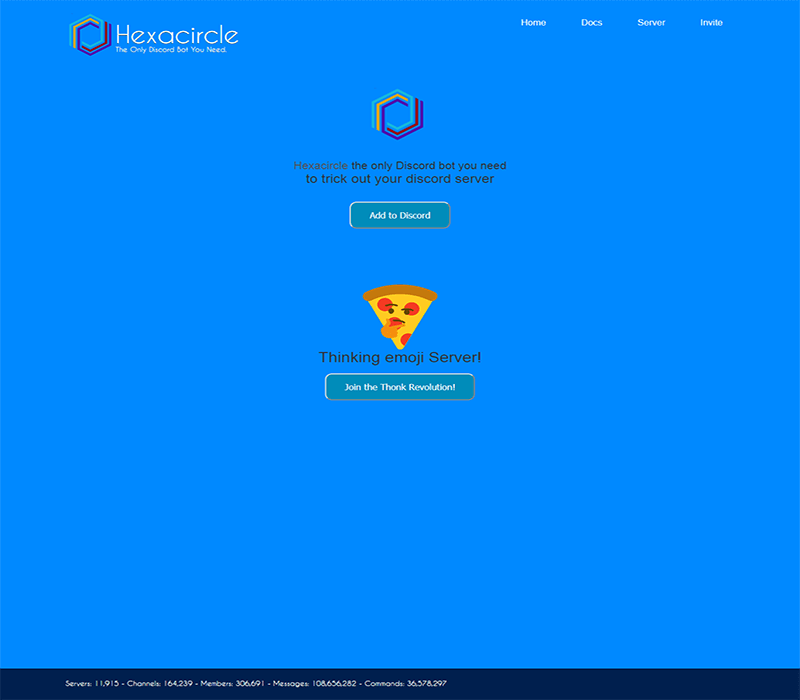 Additionally, you can create custom messages and alerts for events like new member joining or leaving the server.
Features:
Utility and fun combined in this Discord Bot

Giphy and Twitch Integration for expressive chats

Auto Moderation

Softban feature included

AFK status enabled

Playback music option

Customized volume settings

Create custom messages

View users list and individual user's stats

Youtube search

Fun commands like shoot, kill, revive or stab

Strong online community of users
9. TypicalBot
For Discord Server owners looking for a single bot that covers auto moderation and fun commands and features, TypicalBot is a jackpot hit. This Discord Bot is an easy-to-use bot with a long list of commands that can be used for moderation as well as fun.
Under Moderation, it offers commands like speak, view settings, and configuration, role give/take, message pruning, kick/ban/softban facilities and a lot more.
Other features include permission level viewer, server, and user info as well. It also has a cool feature called StrawPoll and random user picker which is great in case of a giveaway or rewards.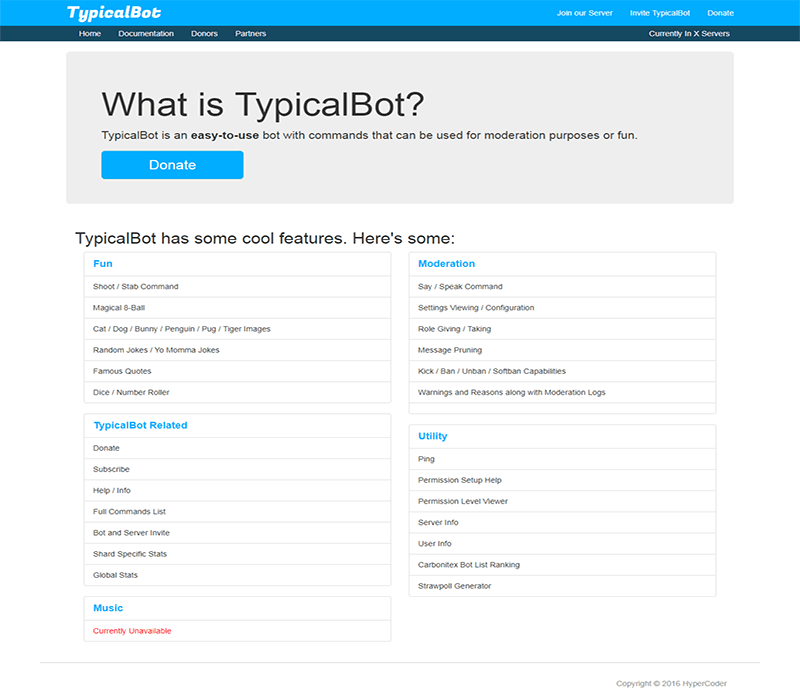 Under entertainment, it also offers interesting features like funny images, shoot/stab command, random jokes, quotes, Magical 8 Ball, Dice Roll and more. Currently, there is no command for the music feature.
Features:
All rounder Discord Bot for Auto Moderation and fun

Easy to use bot

Speak/Say command

View settings and configuration

Role giving/taking

Message pruning

Kick/Ban or Softban users

Permission level viewer

Strawpoll Generator

Fun commands like image search, dice roll, 8Ball, Random jokes, and quotes, etc

Global Stats and Specific Stats

Server and user info

Moderation Logs
10. Overwatch Bot
If you host a Discord Server and play Overwatch, then look no more!
This bot is named after the popular game Overwatch for a specific reason. It'll let you do many things related to Overwatch. For overwatch players, this is the best discord bot that they can have on their server.
With Overwatch bot, you can watch your overwatch stats and even your competitors' stats without leaving your server.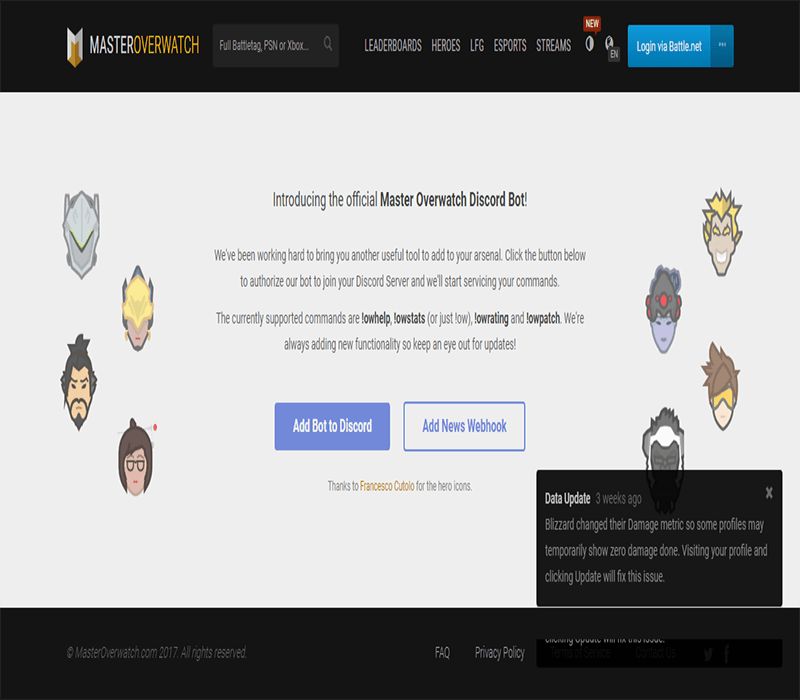 Among an array of other features, it also highlights the top 5 players of the game and their stats in an image format. You can also use this bot to make a comparison of various Battle.net accounts directly from within your server
Features:
Collects Overwatch player's data for a given battle.net tag

Shows your Overall Statistics

Displays your Competitive stats

Shows top 5 heroes of the game

Displays your statistics per hero

Generate images of your stats for easy understanding

Compares given battle.net accounts

Links Battle.Net and Discord

Best discord for Overwatch Players
Final Words
Discord is a great free text and video chat tool for all the game players which has gained immense popularity in very little time. With these 10 Best discord bots and more that are available, you can enhance the functionality of your Discord server and even add some fun elements at the same time.
So go ahead and add a twist to your discord servers with these cool bots now.
Just in case, I missed any of your favorite Discord bots, let me know in the comment section below.