Top 15 Best Kodi Live TV Addons of 2020 You Must Try
Watching TV shows, movies, sports and other events online has its own charm. It gives you another thrill and out-of the world. You'll know this if you're also a TV enthusiast like me. For all my fellow Live TV lovers, I bring to you top best Kodi Live TV addons for the year 2020.
To have an app like Kodi is extremely fun. You have all your favorite shows and entertainment on your fingertips! And that's not all. You can enhance your experience and give it another twist. How would it feel to have the access doors open to best shows and movies worldwide? After reading this post, it'll …
But First things first! Let's see how it works.
Kodi is an open-source media center wherein you can watch all your favorite shows, movies, and other media content and even stream Live TV as well. For using this Live TV feature, you'll need a Kodi Live TV addon. You can find more kodi live tv addon here.
These addons are meant to enhance your Kodi experience. Various Kodi addons are available that'll give you access to millions of shows ranging from different languages to varied genre. You can explore them all.
The problem comes in when choosing the right addon. Many Kodi beginners often feel overwhelmed by the number of addons available for Kodi. It becomes tiring to try each one!
As a solution, this post will help you decide wisely. These options are some of the top Kodi Live TV addons available out there.
Reminder: Before You Go Ahead, Get Secure
Before you go ahead and use Kodi, it is advisable to download a VPN for your Kodi.
A VPN will:
Keep you safe and secure while you stream away and watch your favorite movies online.
Circumvent all ISP limitations and let you access unlimited media content.
Help you avoid warning letters and copyright/infringement notices.
Also, your video stream speed will increase and you'll definitely want that to enjoy more movies in lesser time. So don't wait up and download the best Kodi VPN today.
Just follow these brief steps to get secure:
Signup for IPVanish here and download it.
Launch the app and get connected to IPVanish server.
Open Kodi and stream your favorite media like movies and TV shows easily.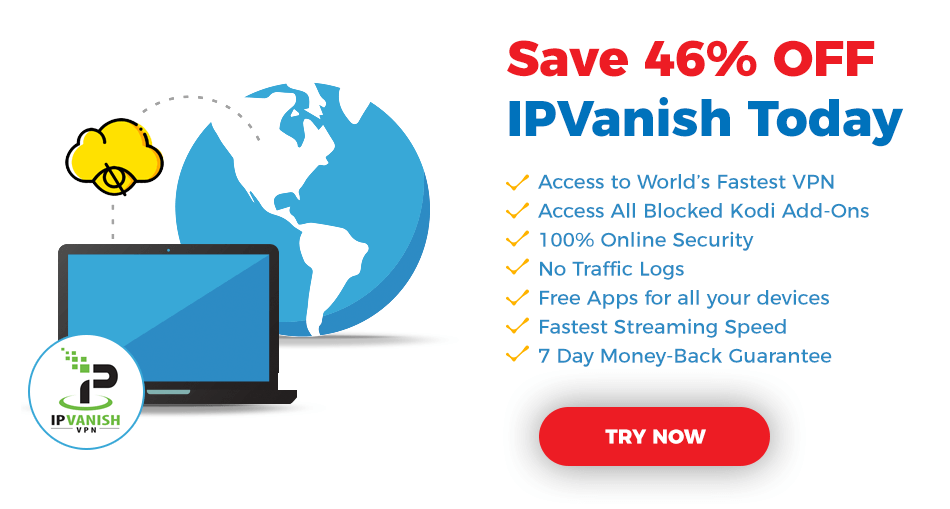 I highly recommend using IPVanish. It'll do the job as promised without burning a hole in your pocket.
Be a part of the Tier-1 VPN- IPVanish Today!
Let's get you started with the first step in the process, i.e., to install Kodi Live TV addon.
Steps to Install Kodi Live TV addon in Kodi 17 Krypton
Step-1: Open your Kodi Interface and go to the main page.
Step-2: Now from the main page, Select the settings option positioned at the top left.
Step-3: Select File manager option.
Step-4: From the left side, click add source.
Step-5: A dialog box will appear. Click on None.
Step-6: Type in the URL for your addon and select OK.
Step-7: In the next box, enter the name, eg For Kodi Live TV addon Exodus, you can name it Exodus for easier access later.
Step-7: Now select OK.
Step-8: Go back to your main menu page and select addons.
Step-9: Select the Package Installer option from top left.
Step-10: From options, select "Install from zip file".
Step-11: A pop-up box will appear. Select "Exodus" from the list of options shown.
Step-12: Find and click on its zip file path and click ok.
Step-13: Once downloaded, it will pop up at the top-right of your screen.
Step-14: After it is installed, you can simply find it in the video addons section.
Now that your Kodi Live TV addon has been successfully installed, you're only one step behind from enjoying your media.
Step-15: Just go to Video addons section and select the addon you want to enable. An enabled notification will appear. Once you go back to the main page now, all the shows and channels available on your addon will appear for you to choose from.
Simple right. But it gets better. We'll now discuss the best Kodi addons for Live TV
Top Kodi Live TV addons for the Year 2020
1. Exodus
Exodus is by far one of the most reliable and popular Kodi addons available. Developed by the Genesis addon team, this addon has stunning streaming capabilities. It has a great interface and on top of that, it is very user-friendly.
Without compromising on the quality and streaming capabilities, Exodus provides you a vast and rich library of content from all over the world.
It also comes with one of the best browsing features from any addon. As an instance, under TV section you can segregate your content based on language, genre, and ratings.
The only drawback in Exodus is that it doesn't differentiate between legal or illegal content. So you have to decide for yourself if you should watch certain content or not.
2. Covenant
Covenant is another famous addon for Kodi. It is a new addon and is based on the popular Exodus and Genesis code. If you want to have unlimited access to your favorite movies, TV Shows and more, Covenant should be a part of your Kodi.
It brings you a myriad of streams from around the world. And the best part? It is easily available and you can install it in just a few minutes.
3. Bob Unrestricted
Bob Unrestricted is another Kodi addon for live TV. It gives you unrestricted access to your favorite movies, TV Shows, Live TV and a lot more.
Once you download Bob, you can stream all your favorite content and watch even more variety of content without having to search it on a browser. Because you'll get it all in one place.
4. USTV Now Plus
This addon for Live TV brings to you streaming access to over more than 20 US based channels. It is available in two variants: Free or Subscription based.
If you decide to go for a free variant, you can simply signup on their official site and you'll get free access to following 7 channels: CBS, Fox, NBC, My TV, PBS, CW, and ABC.
For unlimited access, you'll have to go for a paid premium membership. This membership will open doors to more than 29 famous channels and subsequently the shows streaming on them.
If that was not all, you also don't have to worry about any copyright issues with USTV Now. This addon follows all the legal compliances related to streaming and is thus 100% legal.
5. BBC iPlayer
If you love BBC shows as much as I do, you'll love this addon as well. This addon gives you an unlimited access to all BBC's Live content and more. You can easily browse through the content and enjoy streaming your media. Because the content comes directly from BBC, buffering issues will rarely occur.
However, there is one drawback. If you are not residing in the United Kingdom, you'll have to go through a Virtual Private Network (VPN). Using a VPN is not that bad. It also saves you from getting any infringement notices from copyright holders.
Thank me later and download this addon now.
6. cCloud TV
This addon is one of the must-have for all the Kodi Live TV users. cCloud gives you access to miscellaneous US, UK, and other International channels. What's more? You get a user-friendly interface that will make navigation smooth and faster for your favorite streams.
Using this addon, you can watch all sports, entertainment and music channels on the go. Additional features include access to a large number of radio stations. Also for easy navigation, TV Guide integration is also available.
You can watch some of my personal favorites CBS, ABC, Cartoon Network and ESPN on Kodi just to get you started. The only drawback that comes with this is the quality of the stream that may be not up to the mark at all times.
7. Kodi Live
Kodi Live TV is another addon from Kodilive.eu that offers a wide variety of stream media worldwide. You'll get content from many languages such as English, Spanish, French, German, and a lot more.
With so many streams available, I am sure everyone will find something of their appeal in this addon.
8. Sports Devil
SportsDevil is the addon dedicatedly for all the sports fanatics around the world. You can watch all your local and international sports events using this Kodi Live TV addon. True to its name, it brings to you an immense amount of choice to discover from a variety of sports channels.
Also, you can watch your favorite Live Football or Cricket Matches while on the go. Other than sports, you also get to watch other Live TV shows with this addon.
9. Stream Engine
Stream Engine is another simple but powerful Kodi addon. To get live TV on Kodi is a great experience and you can further enhance it with this addon. Unlike other addons, this one displays the channels and its subsequent shows on the basis of their categories.
It effectively reduces your time to browse through hundreds of channels. For more entertainment, you can even binge watch on some of your favorite shows with this addon.
10. ZemTV
For all your family needs, Zem TV is one of the best live TV addons for Kodi. It hosts a variety of exclusive channels from around the globe ranging from the US, UK, India, and even Pakistan. From cartoons channels to sports to music, you'll find it all here.
What's more?
You can stream your favorite media in over more than six languages. The HD quality this addon offers is an additional benefit. Enjoy your Live TV with ZemTV now!
11. SmoothStreams
With access to more than 50+ channels to watch your favorite Live TV shows and other entertainment media, SmoothStreams is your perfect addon. It offers a wide range of sports channels as well.
With SmoothStreams you get a smooth stream media. The option to select the media quality is also available ranging from 540p to 1080p as well.
12. FilmOn
This addon is unique in itself due to the fact that it streams media from regions not available on most addons. It ranges from parts of Africa, Asia, Europe and other international channels.
Also, if your interest lies in a specific genre such as documentaries, science, technology, sports or music, you'll get it all from FilmOn Simple addon.
13. Castaway
Castaway is another Kodi addon for all the sports lovers. This addon offers a wide variety of sports events and streaming of international sports channels. It lets you view your favorite matches anytime and anywhere.
One of the most demanded addons for sports fanatics, you shouldn't miss out on this one for the love of your favorite game.
14. Rising Tides
For all your Live TV options, you can go for this extremely versatile Kodi addon. It offers a variety of Live TV channels covering all the genres you can think of.
It also has a great user-interface for easy navigation. All the menus are well-organized. Also, the quality of the stream is highly reliable and you won't encounter any buffering problem as well.
Being a comparatively new addon, this one is not very famous. But this might change as it is gaining popularity soon. We can say it is on the way to becoming one of the best Kodi Live TV addons for 2020.
15. Falcon
Falcon is one of those addons that comes with a wide variety of Live TV Streams. It offers high-quality streams from around the world.
Having a rich library of channels, you can explore all day on this addon and won't get bored. With a range of channels from almost all genres, you'll love this.
Want more? Falcon has another sports addon that'll extend your sports channels stream and you will be able to enjoy your Live TV a lot more!
In Summary
Kodi offers a lot of features and Live TV is just one of them. With these Kodi addons, you'll be good to go and enjoy all your favorite TV shows and explore even more of them.
P.S. Just keep this in mind that every now and then, some addons may show certain content that come under infringement and copyright issues. So you should carefully browse through these shows and watch accordingly.
To avoid this situation completely, you can go for a good VPN and these issues won't be a problem.
I hope you found these addons helpful. For further queries, you can leave a comment below.
We'll gladly answer!
Till then, Stay Tuned for more.