How to Install Kodi on Fire Stick (Quick Installation Guide)
Have a quick glance through this guide and learn how to install Kodi on Fire Stick in maximum five minutes. As you may already know, Kodi is an open-source media center that allows you to stream your favorite TV shows and movies from around the globe easily.
Amazon Fire Stick is a dongle-like device that you can connect to your Smart TV and get quick access to all of the best series on Amazon Prime, Netflix, Hulu and with this guide… Kodi.
While Amazon Prime shows as a standalone are quite amazing, Kodi opens doors to unlimited media with an array of choices with Live TV add-ons like 1Channel, SportsDevil, and Genesis Reborn to name a few.
Editor's Note: You can check this post for some of the hand-picked and best devices for Kodi. It includes all save and splurge worthy options.
Reminder: Before You Go Ahead, Get Secure
Before you go ahead and use Kodi, it is advisable to download a VPN for your Kodi.
A VPN will:
Keep you safe and secure while you stream away and watch your favorite movies online.
Circumvent all ISP limitations and let you access unlimited media content.
Help you avoid warning letters and copyright/infringement notices.
Also, your video stream speed will increase and you'll definitely want that to enjoy more movies in lesser time. So don't wait up and download the best Kodi VPN today.
Just follow these brief steps to get secure:
Signup for IPVanish here and download it.
Launch the app and get connected to IPVanish server.
Open Kodi and stream your favorite media like movies and TV shows easily.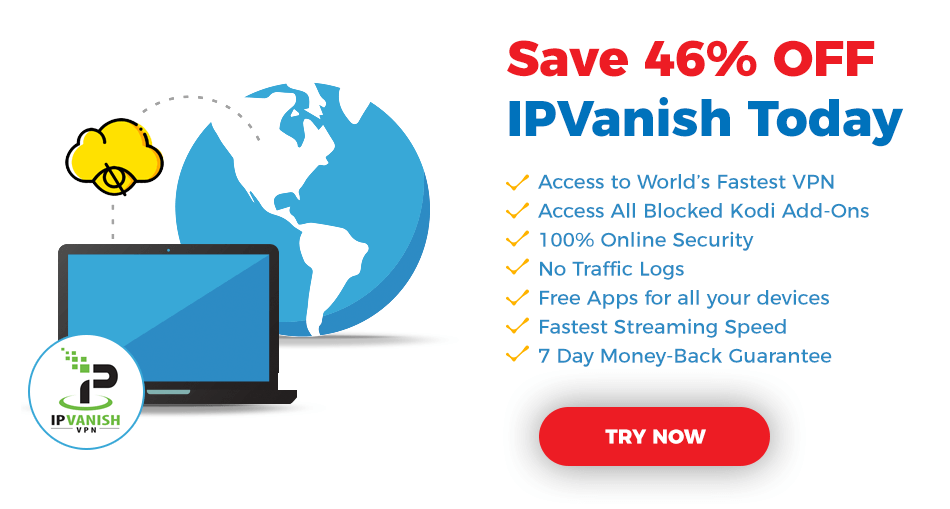 I highly recommend using IPVanish. It'll do the job as promised without burning a hole in your pocket.
Be a part of the Tier-1 VPN- IPVanish Today!
If you're a Kodi beginner, I'll suggest this detailed guide on how to use Kodi.
Moving ahead…
Steps on How to Install Kodi 17.3 on Fire Stick.
Before you follow these steps to install Kodi on Fire Stick, you'll require an Amazon account. A trial account will also work. If you don't have one, create your Amazon account here.
Now let's see how it's done.
You'll require Downloader app to install Kodi on Fire Stick. If you already have it, skip the first 7 steps and start with step no. 8.
Go to Home screen using your Fire Stick Remote.
From the top select settings> Device.
To install Kodi 17.3 on Fire Stick, make sure you have ADB Debugging and Apps from Unknown Sources options turned on.
Once it is enabled, go back to home screen.
Select Search option. Enter the word Downloader and scroll below to select it.
From search results, click on Apps & Games> Downloader.
Select Download option. It'll install the downloader app for you. Move back to home screen.
Select the Downloader app and open it.
Enter the URL: http://bit.ly/kodi173arm and press Go from the remote. This link is a direct APK file download link for Kodi 17.3 Krypton. Alternately, you can also enter https://bit.ly/kodi174arm which will download the Kodi 17.4 pre-release version of Kodi.

Kodi 17.4 may contain bugs or crash suddenly. For a stable software, you may download the first link.

Once the file is downloaded, it'll launch automatically and ask if you would like to Install Kodi on Fire Stick or Cancel. Click on Install.
Give it a few seconds. Once Kodi installs successfully, you can launch/open it from your Fire Stick Remote.
Here's a quick heads up for you.
Get started on Kodi like a boss with these top Kodi Live-TV add-ons giving you unlimited access to movies, sports, Live Radio, Music and a vertical of other options.
Have Kodi Already? Here's Why You Need to Upgrade
Kodi streaming is moving towards secure stream sources with HTTPS which is only compatible with Kodi 17.1 and above versions. If you have Kodi Jarvis on your device, you'll require an upgrade to experience a stable and smooth stream over Kodi.
Furthermore, Kodi add-ons dependencies are also updating for Kodi 17. So you'll have to upgrade now or later.
I say, start now! With my simple guide on how to update Kodi, in a few minutes you'll have latest Kodi software up and running on your choice of device.
Kodi is Not Working Properly?
If your Kodi Stream is not working properly, there might be an issue from the streaming source which unfortunately can't be resolved directly.
Other reasons might be related to your ISP or Kodi Cache. For the first problem, you can download an effective Kodi VPN like IPVanish and say goodbye to most ISP problems.
The latter problem is quite annoying too because it causes constant buffering in Live Streams. Follow this quick tutorial on how to clear cache on Kodi automatically and save yourself from buffering trouble.
For Everything else…
Drop in a comment below and I'll quickly respond with a solution.
Till then, stay updated!
Disclaimer: Please note that freaksense community does not promote and/or approve of piracy in any way. How you use the information presented to you is ultimately your sole responsibility and you shall be accountable for the same. Also, we do not own any rights or have authority over the software, products and external links mentioned in this post.