How to Install Kodi on Roku: A Beginner's Quick Guide
In this article, we have a quick guide that will show you a step by step about Kodi, Roku and how you can install Kodi on Roku.
Reminder: Before You Go Ahead, Get Secure
Before you go ahead and use Kodi, it is advisable to download a VPN for your Kodi.
A VPN will:
Keep you safe and secure while you stream away and watch your favorite movies online.
Circumvent all ISP limitations and let you access unlimited media content.
Help you avoid warning letters and copyright/infringement notices.
Also, your video stream speed will increase and you'll definitely want that to enjoy more movies in lesser time. So don't wait up and download the best Kodi VPN and enjoy kodi on roku tv today.
Just follow these brief steps to get secure:
Signup for IPVanish here and download it.
Launch the app and get connected to IPVanish server.
Open Kodi and stream your favorite media like movies and TV shows easily.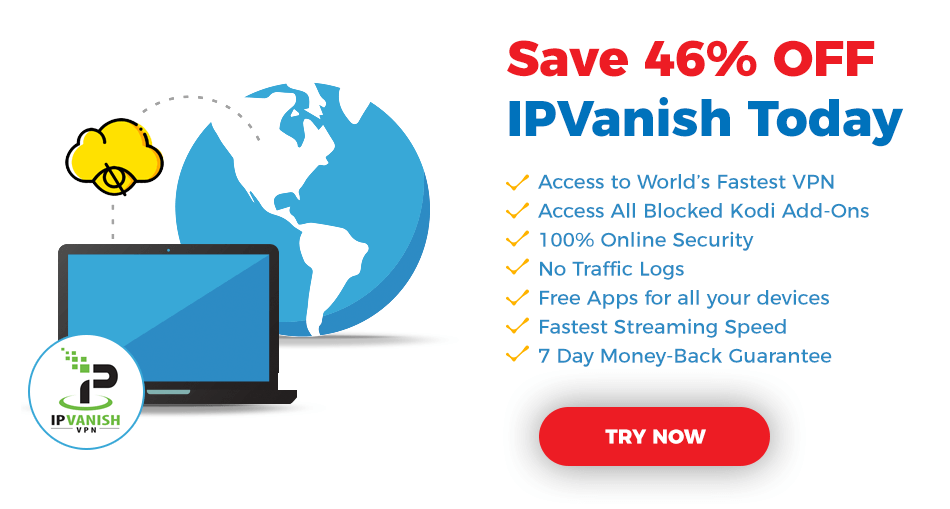 I highly recommend using IPVanish. It'll do the job as promised without burning a hole in your pocket.
Be a part of the Tier-1 VPN- IPVanish Today!
Roku is a very well-known company that builds streaming devices such as Roku Stick, Roku TV and more. If you know about ChromeCast, then you'll find that Roku is somewhat similar to that. As a matter of fact, Roku is one of the top-notch yet affordable ChromeCast Alternatives available in the market.
Highlights of Roku:
An affordable streaming device for your next-level entertainment.

Supports Netflix, Hulu, ESPN and other prime streaming channels.

Offers trial period access to most popular media content online.

Supports screen-mirroring feature using your Windows/Android Device.

Wired/Wireless Internet Connection Supported.

Works well with HDTV and Smart TVs.

Supports streaming of 4K media content.

Faster streaming from the Internet.

Can stream content from Kodi in Full HD.

Convenient and cost-effective.

Simple to setup and easy to use.

Offers tons of free content from channels like ABC, PBS, and CBSN.

Provides access to over 50K+ movies and TV shows from both paid and free channels.

Subscription to free movie channels like Popcornflix and OVGuide.
With Roku, you get access to a lot of quality media content like TV shows and movies from Amazon, Youtube, Hulu, Netflix and HBO GO to name a few. When you buy any Roku device, you also get a free trial period access to some of the most popular shows on these channels.
Still, as a media lover, you want to explore more and expand your search horizons for exclusive media content. In this age of Internet, you're in luck because there are many apps and software available for the above-said purpose.
One of the most famous and loved apps among media explorers is Kodi, earlier known as XBMC. This app is an open-source media center that comes with an immense amount of add-ons. WIth Kodi, you can stream your favorite media such as movies, music, sports, TV shows and more easily.
Let's know a little more about why you should install Kodi on Roku:
Kodi is a free to download open-source media app player or media center that resolves all your problems for finding your favorite media. This app has literally everything for everyone. If you're a family man, Kodi has all the content for all your family members.
Be it cartoons, anime, sports, news, TV shows, movies, music or documentaries, Kodi has it all!
If that was not all, you get content not from just different genres but also from across the globe right onto your Kodi installed device.
Some other reasons for why you should install Kodi on Roku are listed below:
Why Should You Install Kodi on Roku?
1. It is an open-source software and available at absolutely no cost.

2. It provides unlimited access to a variety of content spread across hundreds of categories for all your entertainment- at one place and within one app.

3. You can customize your Kodi app with a long library of skin add-ons available for it.

4. Watching Live TV was never this easier. Take your PVR/Live TV experience to another level with Kodi Live TV add-ons.

5. Enjoy all your favorite shows on a larger screen once you install Kodi on Roku.
Now we know what Kodi is, so here's the quick question you'll ask, "How can I install Kodi on my Roku TV and other devices?"
Below is the list of official devices that are compatible with Kodi app:
1. Windows Devices

2. Linux Devices

3. Android Devices

4. Raspberry Pi

5. Mac OS X

6. Select Setup boxes
Now you must have noticed that Roku device is not mentioned in the list of Kodi compatible devices. This is because Roku isn't.
Simply saying if you ask me, how can you install Kodi on Roku, I will say you can't.
So why exactly are we here then?
Well, we are here because even though you can't install Kodi on Roku TV or any other device. But you can work your way around Roku to get the most out of Kodi.
What I mean to say is that if you want to have access to unlimited media device on your Roku with Kodi, well then you can.
Only you wouldn't install Kodi on Roku, but use the other method called screen-mirroring technique.
I will be sharing this technique in a few minutes but before we proceed, you need to know a must-have requirement before you begin using Kodi
Download a VPN for your Kodi – A Must-Have for Kodi Users
Being an Open-Source app, Kodi has been developed by more than 500+ developers till date. There is a wide range of Kodi add-ons available ranging from music add-ons, video add-ons, skin add-ons to a lot more. These add-ons have been developed by Team Kodi and other community members who love to use and develop things for Kodi.
Now, Kodi doesn't police the content it offers which means that some of the content available may be subject to serious law offense such as copyright and infringement issues.
As per a recent act that was passed, any person found streaming illegal content either through torrents or any other medium can land in jail.
You don't want to end up in prison only for watching your favorite show, right?
So you might start searching beforehand if the content you're about to watch is considered legal to watch in your current location or under your ISP. But may be one day you forget to or are just too tired to practice it. What then?
To put an end to this gruesome practice and also watch all your favorite media without the sword hanging over your head, you'll need a VPN.
A VPN will solve all your problems in one go. Just download a good Kodi VPN and all your problems will vanish.
Here's what a VPN will do for you:
First, it'll save you from any copyright/ infringement issues.

Second, provide unlimited and unrestricted access to your favorite content from around the globe.

Third, circumvent all the geographical and ISP limitations laid on some content.

Fourth, it'll give you a safe and faster browsing experience whilst protecting your privacy over the Internet.
Coming to our main topic now, you know that you can't install Kodi on Roku. But you can still stream your favorite Kodi media with a screen-mirroring or casting technique.
So Roku has a lot of devices meant for streaming content. You can even connect to them either with a wired Ethernet or a wireless connection.
Also, Roku supports 4K media quality. So if you own a 4K enabled smart TV, you're in for a high-quality media streaming.
Without much ado, let's get to the steps to install Kodi on Roku mirror Kodi to Roku.
How to Mirror Kodi to Roku Device
For mirroring Kodi to Roku, you need to make sure that screen mirroring is enabled on your Roku device.
Here's how you can enable screen mirroring on Roku:
Navigate to Settings> System.

Select Screen Mirroring option and enable it.
If it is already enabled, you're good to move onto the next step.
Make sure you have Kodi app downloaded on your Android or Windows device.
Now let's first start with how you can mirror or cast your device's screen using Roku (just another streaming device).
Steps to cast your Android device screen using Roku:
Before you follow these steps, make sure that your Roku and Android device, both are connected to the same Wi-fi network.
The first step is, of course, to download Kodi on your device.

Enable Cast option from your Android device.

Search for your Roku device and connect with it.

Now Play the media from your Kodi and it'll start playing on your Smart TV as well.
Note: For various Android devices, the cast option may have different names such as MiraCast, Wireless Display, HTC Connect or simply Cast.
Steps to mirror your Windows device screen using Roku:
For Windows Mobile:
Go to Settings> Projection.

Select option: Project my screen.

Select Roku device from the available options.
Once you connect to your Roku, any media that you'll play on Kodi will be projected on your Smart TV screen.
For Windows PC/Laptop:
Navigate your way to Action Center in your system.

Select connect option.

Search for Roku and establish the connection.
Once done, you can stream your favorite media on Kodi which will simultaneously be displayed on your Smart TV screen.
To Summarize
Roku is a great device and even on its own, this thing will never let you down in terms of entertainment. As an individual choice, Roku gives access to a lot of free and paid subscriptions. Even if you don't want to pay, you get a load of content from free channels like Youtube, OVGuide, and PopcornFlix to name a few.
All this and more can be done from your Roku device. For instance, if you own a smart TV, you can stream 4k Quality content with Roku and cast it on your TV for an enhanced Home Theatre experience.
With Kodi on Roku, you can simply gain unlimited access to more of your favorite content and even explore your interests from varied genres spread across the globe.
So don't wait around and get your Kodi on Roku now. But don't forget to stay secure with a good VPN of your choice.
Till next time, Happy Streaming!