List of Top 10 Best Kodi Addons for Movies 2020 – A Kodi User's Guide
Are you a self-proclaimed movie enthusiast like me? I mean, who wouldn't like to watch movies when they have time on their hands. It is a delight for all our senses! Today, I'll be sharing the list of top 10 Best Kodi addons for Movies 2020 with you.
These add-ons will provide you with all the latest movies and cult classics in 4K, 3D, and HD stream to get you sorted for the next 40-50 weekends, to say the least!
Now, Kodi is a must-have open-source media center for all the movie buffs around the world. Why? Because with Kodi, you can kill two birds with one stone. How?
As a media center, Kodi will organize all your local media content in one place. Simply browse through for your locally placed movies and play it in the Kodi media player.

For streaming latest movies and even all-time favorites, Kodi is your go-to app. With an assortment of add-ons for all your movie needs, if not, Kodi will now become your new favorite.
Reminder: Before You Go Ahead, Get Secure
Before you go ahead and use Kodi, it is advisable to download a VPN for your Kodi.
A VPN will:
Keep you safe and secure while you stream away and watch your favorite movies online.
Circumvent all ISP limitations and let you access unlimited media content.
Help you avoid warning letters and copyright/infringement notices.
Also, your video stream speed will increase and you'll definitely want that to enjoy more movies in lesser time. So don't wait up and download the best Kodi VPN today.
Just follow these brief steps to get secure:
Signup for IPVanish here and download it.
Launch the app and get connected to IPVanish server.
Open Kodi and stream your favorite media like movies and TV shows easily.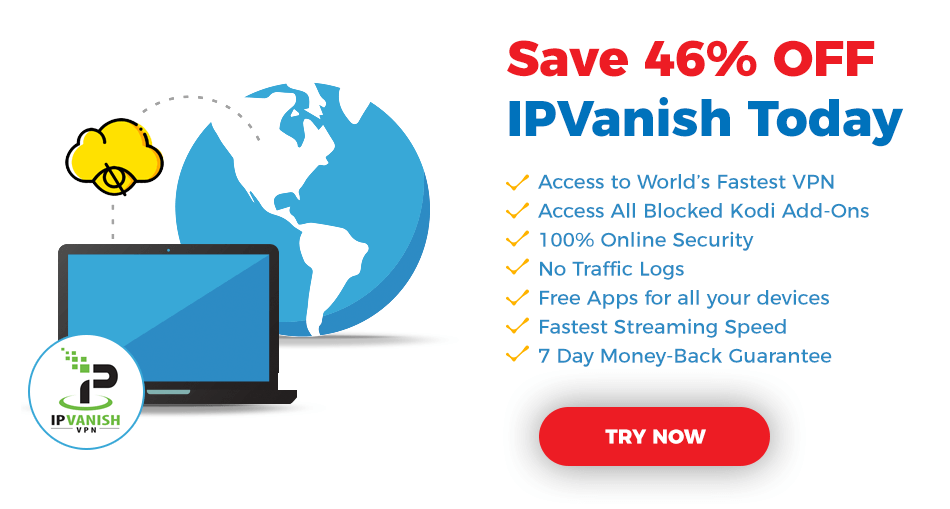 I highly recommend using IPVanish. It'll do the job as promised without burning a hole in your pocket.
Be a part of the Tier-1 VPN- IPVanish Today!
Kodi has an array of add-ons available within its own site that serve a variety of purposes. For example, Music add-ons for all your music needs, Live TV add-ons for Live TV shows and movies stream, Skin add-ons for customization of User interface, Web Interface add-ons to access Kodi from a remote and more.
These add-ons form the backbone of Kodi. Because of these, you'll get to experience a platter of movies on your device. Spread across a variety of genre from thrillers, romance, action, history to comedy and a cross-section of the genre like romantic-comedy, you'll get it all in Kodi.
And all this for free!
Kodi add-ons are built on an open-source platform and are also available for free download. With a truckload of add-ons to choose from, you might just spend all your time looking for that one add-on that works well for you.
To save you some time, I have come up with a list of top 10 best Kodi addons for Movies 2020. These add-ons offer movies from a variety of genre and are also available in different streams like 720P, 1080P, HD, Full HD, 3D, and 4K.
Before we get to the list of these 10 best Kodi addons, here are a few things that need to be considered.
Things to be considered before you stream movies on Kodi
Before you go ahead and download any Kodi add-on, it is advisable to download a VPN for your Kodi. A VPN will keep you safe and secure while you stream away and watch your favorite movies online.

Some Kodi add-ons host certain content that might be subject to copyright and infringement issues. See, they might not be available at your location even if you download the required add-on due to geographical and/or ISP restrictions laid on them.

Using a VPN will ensure that you bypass the above problem. With a Kodi VPN software on your system, these limitations can be circumvented and you can enjoy access to unlimited and unrestricted media content.

To have a great video streaming experience, make sure that your Internet connection is fast as slow speed can bring around more buffering than you'd like.
Having a VPN can help resolve this situation to some extent. By selecting the ISP located near to the add-on server location, your video stream speed will increase and you'll definitely want that to enjoy more movies in lesser time.
So don't wait up and download the best Kodi VPN today.
Once you've your Kodi and a good VPN installed on your device, you're all set to move to the next step.
Here are the top 10 best Kodi addons for Movies 2020
1. Popcornflix.com – Great Movies Free
Popcornflix.com Video add-on is one of the most famous Kodi add-ons for Movies 2020. Once you download this add-on from within Kodi, you will be able to enjoy a broad collection of movies that you can watch right away.
Available on most platforms like Google Play, Play Store, Roku, Amazon apps, this add-on has a strong foothold in the movies department. Hosting a variety of movies and even TV shows ranging from latest releases to older classics, you'll get it all here.
With this add-on, you will get something from every genre possible. Most popular genre sections they have are action, comedy, drama, horror, romance and even some famous documentaries.
If you thought that was all, you're wrong.
This add-on also hosts a range of some favorite foreign films with subtitle support and has a great list of TV shows as well.
2. Classic Cinema – All Classic Movies and Shows
This is another Kodi add-on for movies. In this add-on, you can watch online videos movies and TV shows available at classiccinemaonline.com. Classic cinema, as the name suggests hosts all those classic movies that'll make you feel nostalgic all at once.
Having a good range of all genres from romance, comedy, horror, thriller to action, this add-on also provides a good quality of documentaries, cartoons, family and holiday movies.
For anime lovers, it has a good variety of animated movies as well. You can pen down this add-on as one of the best Kodi add-ons for old movies and cult classics.
3. Dailymotion – Movies, Music, TV, 3D, and Live Streams
An all-in-one Kodi add-on, Dailymotion features a variety of options for you to choose from. Be it movies, music, TV, 3D cinema, Live Stream or even user clips, you can find it all with this add-on.
This Kodi add-on for movies also provides the user a tailor-made video experience once you sign-up on their official site. With a track of what you like and search for, this add-on will suggest the movies you might like.
Apart from movies, you'll also get to watch sports, news and gaming videos with this add-on.
You can download it directly from the Kodi official site.
4. Snagfilms- Hidden Movie Treasures
Snagfilms offers a great variety of movies that you can watch free of cost. What sets this Kodi add-on apart from others available is that it has some very exciting list of genres available for you to explore and enjoy.
Some of these offbeat genres include:
Politics
Faith and Spirituality
Arts and Culture
Award Winning
Classic Films
Festival favorites
Military and War
Science and Environment
History
Latino Movies
Cult Classics
These are just some of the genre. There's a lot more for you to explore with this add-on. Think of it as an old local video library that not only has the latest movies but also the best of classics and eye-opening, awestruck-ing documentaries as well.
As an animation movies lover, you'll love the variety they have to offer.
5. Flixanity- Choose your stream option
Flixanity is undoubtedly one of the best Kodi addons for HD and 4K movies. In Flixanity add-on you can browse from a variety of movies and TV shows available.
This search can also be filtered on the basis of the following:
Most Popular
Most Watched
Trending
Release date
IMDB rating
Genres
Cast and more
With Flixanity, you can also create a list of your favorite movies and shows for better navigation. Also, this add-on has a great feature wherein you can select the stream quality of video beforehand. It can range from 1080p to 360p and more if made available.
6. Supra Box- On Request
On the list of top 10 Kodi addons for movies 2020, Supra Box is a relatively new add-on. This newbie streams a variety of media content such as TV Shows, Documentaries, Music, Sports, News, Movies, Animation, On-Demand shows and much more.
It is also one of the best Kodi add-ons for HD and 4K movies. This add-on has been developed by a third-party and can be downloaded from a repository online.
Apart from movies, it also streams some other interesting content like:
Classic Boxing
YT Madness
Ice Hockey Tributes
Home Videos
Live TV
Football Rewind
On Request and a lot more.
7. Veetle- One Stop for all Marvel Movies
Are you a Marvel's crazy fanatic fan like me? If yes, then your search for all Marvel Movies ends here with Veetle add-on. This add-on comes loaded with a diverse range of media content for Kodi.
As one of the best Kodi add-ons for movies, this add-on indeed offers great movies ranging from favorite Marvel movies to famous series such as Star Trek and Star Wars, to name only a few.
Of course, as a top add-on for HD movies, it also offers a variety of different genres as well.
All in all, your one-stop for favorite movies and shows should just end with Veetle video add-on.
This add-on can be downloaded from an online repository. Simply download, install on Kodi and stream latest movies and shows with just one-click.
8. Supremacy- Single Click Movie Addon
Supremacy is another very famous add-on for movies on Kodi. It is a great Kodi add-on that offers a lot of media content and will never let you get bored.
A great variety of movies and TV shows are available within this one-click add-on.
Some of the content it provides is as below-mentioned:
Supremacy movie search
Sky movies
3D Films
4K Movies
Kids TV
New Releases
TV Shows
Movies
Sports
Animation
Live Sports
Holiday Favorites
A-Z Movies
Youtube and a lot more.
Apart from this, you also get access to free and exclusive content from SkyMovie as well. For exploring more about supremacy add-on, you can download it right away and enjoy streaming of your favorite movies and shows.
9. UK Turk Playlists
Another add-on for all your movies on Kodi is UK Turk Playlists. This is one of the oldest video add-ons available for watching movies on Kodi and has retained its position as being one of the best Kodi addons for movies as well.
Because of some legal issues, this add-on recently vanished but is again back with a bang on a new URL. With this add-on, you can watch all your favorite and most popular movies all at one place.
Exploring will never end because it has an exhaustive list of media content segregated into various sections such as 3D & 4K Movies, Pre 50s Movies and some more that I'd be sharing below:
New Movies
3D & 4K Movies
Pre 50s Movies
60s Movies
70s Movies
80s Movies
90s Movies
00s Movies
2010-2016 Movies
Box Set Movies
Star Wars & Star Trek Movies
James Bond Movies and loads more
This is not just it. With UK Turk Playlists, you can even watch Live TV, Sports, Cartoons, Documentaries, Foreign movies and so much more.
10. Elysium
Earlier known as Zen, this Kodi add-on for movies 2020 is an Exodus Fork which has expanded on its own now. Among many Kodi add-ons shutting down, this is the one that is still up and running well.
Supporting a wide range of movies and TV shows, Elysium is one of the best add-ons for movies in Kodi. Just like Exodus, this add-on is also very popular and shares many similar features as well.
Elysium is a multi-source movie and TV shows add-on which means that it pulls the media content for a variety of websites giving you more options to choose from.
Being a third-party add-on, you cannot download it from Kodi site. This Kodi add-on for movies is available on NoobsandNerds repository that you can get over the Internet.
A small Guide on How to Install Kodi add-ons
Once you select your favorite add-on, you'll have to download and install it in Kodi. For that purpose, we have two methods.
Direct file download from Kodi.
Download and install from a third-party repository.
If your selected add-on is available in the Kodi interface itself, you can go for the first method. Otherwise, you'll have to go with the second method.
For further information, you can check this detailed article right here.
Concluding Words
Using Kodi media player has its own charm. With so many keyboard shortcuts available, your browsing becomes easier and faster.
It goes without saying, of course, that watching movies is a great way to kill time and with these Kodi add-ons for movies, you'll never be short of choices. So go ahead and download your favorite add-on now.
And if we missed any, do share your own list of Kodi addons for Movies 2020 in the comment section below. 🙂