How to Update Kodi to its Latest Version: Kodi Jarvis to Kodi Krypton
Kodi is undoubtedly one of the best media centers and enjoys a certain edge over its alternatives. Why? Because it is open-source, free (We love free stuff!), highly-configurable and compatible with multiple devices. We have one problem! It doesn't have the feature of auto-update so you'll have to learn how to update Kodi to its latest version manually.
If you're using Kodi, you must know it is essential to update Kodi to its latest version for enjoying a stable stream and hassle free experience. The official latest Kodi version is Kodi 17.4 also called Kodi Krypton or Kodi 17.
Please Note: A pre-release version of Kodi v18 "Leia" is also available. Although you can download it from the official download site, this Kodi software is currently in its beta version so it might contain few bugs.
Because Kodi 17.4 is the current recommended software to be downloaded from the official site, we'll focus this post for v17.4 only.
Reminder: Before You Go Ahead, Get Secure
Before you go ahead and use Kodi, it is advisable to download a VPN for your Kodi.
A VPN will:
Keep you safe and secure while you stream away and watch your favorite movies online.
Circumvent all ISP limitations and let you access unlimited media content.
Help you avoid warning letters and copyright/infringement notices.
Also, your video stream speed will increase and you'll definitely want that to enjoy more movies in lesser time. So don't wait up and download the best Kodi VPN today.
Just follow these brief steps to get secure:
Signup for IPVanish here and download it.
Launch the app and get connected to IPVanish server.
Open Kodi and stream your favorite media like movies and TV shows easily.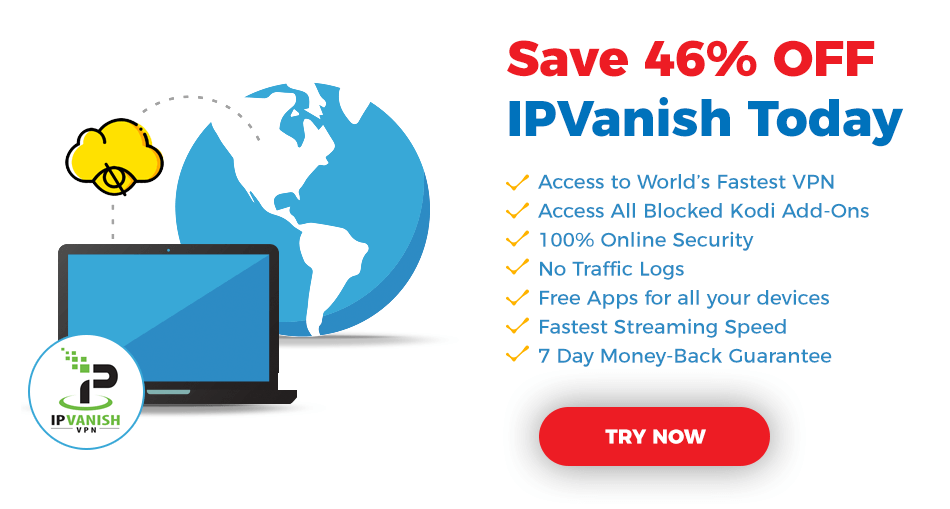 I highly recommend using IPVanish. It'll do the job as promised without burning a hole in your pocket.
Be a part of the Tier-1 VPN- IPVanish Today!
If you're using Kodi for the first time, you should read this how to use Kodi guide to have a better understanding of Kodi and its overwhelming features.
Why You Should Update Kodi Manually on Your Device?
Yes, Kodi is great and there is no doubt about it.
But there's a slight issue. Unlike many other apps and software, there is no Kodi auto update feature till now. So, to enjoy your favorite add-ons, builds, and skins without any speed break, you should definitely update Kodi on your device.
Although most add-ons work fine on Kodi Jarvis (Kodi 16), the add-on developers are upgrading their add-ons and its dependencies to comply with Kodi 17 Krypton.
Many Kodi 17 Krypton skins, latest add-ons, and other modifications are known to deliver a better streaming experience. If you're still stuck on Kodi Jarvis, it is high time to upgrade to Kodi 17 Krypton today.
I know there are many devices for Kodi out there.
So, to help all my fellow Kodians, this simple guide for multiple devices will let you update Kodi in less than 5 minutes.
How to Update Kodi on PC (Windows 10 and Mac OS X)
It is very simple to update Kodi on PC. You just have to reinstall the latest version of Kodi from official Kodi site as you downloaded the earlier Kodi version.
How to Update Kodi on Windows PC
Visit Official Kodi Download Site.
Select your PC Platform (Windows).
Now select the latest version of Kodi.
A executable installer file will download.
Run this installer and follow the prompt instructions.
This simple 5 step process will update your existing Kodi by overwriting the current one with the new installation. Here you have your upgraded Kodi on Windows.
How to Update Kodi on Mac OS X
Visit Official Kodi Download site.
Select your platform (Mac OS).
Click on Installer and your download will begin.
Run this executable file and follow the instructions.
Your Kodi v17.4 Krypton is now upgraded. You're ready to enjoy unlimited media streaming on Kodi with the list of best Kodi Live TV add-ons at your disposal.
How to Update Kodi on Android
Well you're in luck if you're using Kodi on Android-enabled device.
Just like other apps on your Android, Kodi will automatically updated if you've enable auto updates. Else, follow these steps to update your Kodi
Open Google Play Store.
From left side click on three vertical lines and select My apps & games.
In updates, you'll be able to see the updates available for all your installed devices.
Select Kodi> Update.
There you go! You have Kodi updated on your smartphone. And just so you know, to get Kodi on ChromeCast, your ChromeCast app will also be updated with Kodi.
Coming to Android Boxes now…
Please know Kodi v17.4 Krypton and above are only compatible with Android boxes running above Android v4.4. In case you have an Android box with an older version, it is time you upgrade it with the assistance of my list of top devices to run Kodi.
How to Update Kodi on Fire Stick
Do you own Amazon Fire Stick or Fire TV? Great!
With Amazon Prime membership, you already have a wide list of TV shows on Amazon Prime to choose from. But you can enhance this list further by installing Kodi on your Firestick.
If you have already installed Kodi on fire stick, you'd know that Kodi is side-loaded on Fire stick. To update Kodi on Fire Stick, you'll have to format and clear your Fire stick first and then reinstall Kodi with its latest version.
Here is a simple guide to help you through Kodi basics and installing Kodi on Fire Stick.
Just install the latest version of Kodi and you're good to go!
How to Update Kodi on Linux
Updating Kodi on Linux is a piece of cake. Whenever a new version of Kodi is released, just perform a general package/system or open terminal on your Linux system and type:
sudo apt-get update
sudo apt-get upgrade
If the above-mentioned commands don't work, additional packages might be required. In such a scenario, use this alternate command:
Sudo apt-get dist-upgrade
On completion of this step, you'll have Kodi upgrade on Linux.
FAQ: Kodi 17.4 or Kodi 18 "Leia" – What is the latest version of Kodi?
On August 11, 2017, Kodi team released Kodi v17.4 Krypton as a pre-release software which is now the stable and recommended Kodi software. Because Kodi v18 "Leia" is a pre-release nightly build, you might encounter bugs and stability issues.
For the sake of stable streaming, Kodi team recommends Kodi 17.4 Krypton which is official and a full-released software version of Kodi.
I hope you found this article of use.
Join our newsletter to never miss an article on Kodi.
Till then, stay updated!