Manjaro Linux : The future of Linux 2019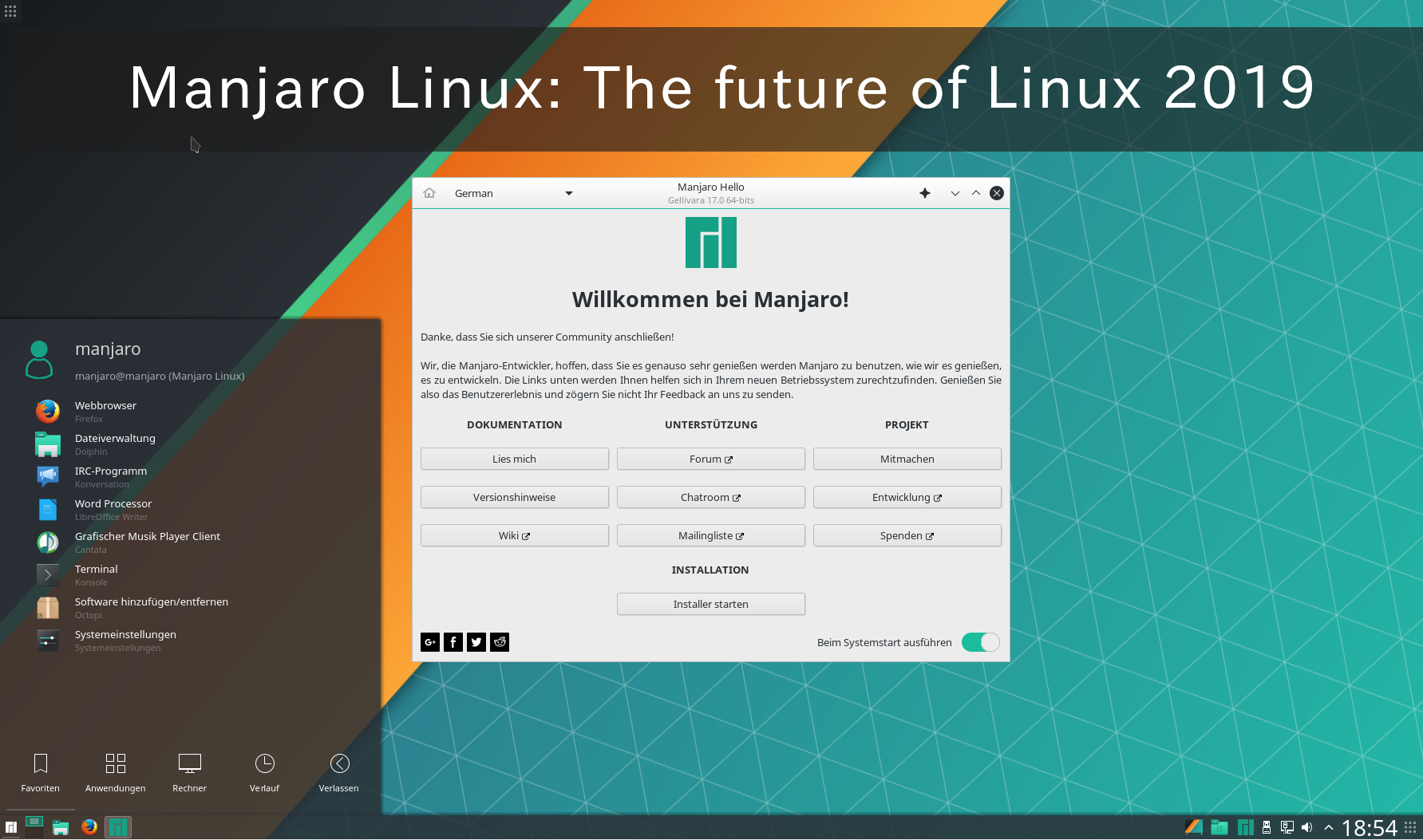 Since birth, Linux Distros has delivered some of the best in class operating systems in the world. Operating systems of Linux Distros mainly got their fame in the community of developers and coders.
Based on the Arch Linux platform, Linux Manjaro is an accessible, user-friendly, open-source Linux operating system.
As the topic name suggests, today in this blog we will discuss all the ins and outs of the major release of the brand new Linux Manjaro.
So let us start by step by step so that you get confused. This blog can help those readers who are hardcore Linux fans as it is a major biggie for them.
Let's get started.
What's so exciting about Linux Manjaro?
So Linux has finally introduced its so far the best operating system and named it as Linux Manjaro. Based on the Arch Linux platform, this operating system has many things to offer. From the benefits of cutting-edge software and a smooth interface, Manjaro has won the hearts of many users.
One of the best things about Manjaro is that the OS is designed in such a way so that both novice and experienced users can it. Manjaro is not like other operating systems. This operating system offers full control over the operating system without any kind of restrictions.
This a very valuable point for those users who are using Linux for the first time and are eager to learn more about Linux Distros.
What's makes the Manjaro so different?
Linux Manjaro believes in providing a user-oriented operating system. Therefore if you are using this operating system then you are in the driving seat and you control everything. It is so liberal that you can even break the installation process if you want to.
Apart from all this, Manjaro has a lot more features that you need to take a look at.
It's Free!
Manjaro Linux is and always will be free of cost. Developers of Linux believes in offering the best to their users. Therefore, they have given the best, easy to use and stable operating system.
For the Linux community, customers are the main focus and they never take away from the user and respect the privacy of each and every user.
Just install Anything
The software center of Linux Manjaro is a huge marketplace for several kinds of applications and software. You can call it a one-stop store for every necessary software.
Here you get to choose from a wide range of software collection (including fully compatible software which is equivalent to famous software like MS Office) and can install anything.
Community Support
Here at the Linux community, we share a friendly and cheerful bond among the active users of Linux Distros.
Our forum is an ideal place to share knowledge and thoughts and reviews on every Linux Distro.
Wide Availability
Linux made Majaro available for both 64-bit and 32-bit architectures. Linux Manjaro officially supports XFCE, KDE, and Gnome editions.
The 32-bit architecture is controlled and maintained by the Linux community. Manjaro also has some ARM editions which are available for certain devices.
It also offers some pre-built images that you can use for the Raspberry Pi3B, Odroid C2, Rock64(rev2)and also the Pinebook.
What are the benefits of Manjaro?
As mentioned earlier, Linux got its fame among the community of developers and coders. Linux offers a highly efficient and very fast operating system as compared to that of windows. Every hardware of Manjaro tends to work in an out of the box nature. Installing a device driver for your OS becomes a rare situation.
Linux Manjaro provides a rolling release distribution. That means you don't have to rely on a major update to upgrade your frequent security patches and small functional packages.
So what's the benefit you get?
The major group of people who will get a major benefit from this operating system is the community of software developers.
With the concept of rolling release you can always keep yourself updated with the latest language and library features and you can ensure that your software always stays compatible with the latest versions.
There is something for everyone. Manjaro can be considered as one of the easiest to use the operating system of Linux Distro. It also comes with an outstanding user-friendly interface. Now, this is a very beneficial point for the novice users who are joining the Linux community by using Linux Manjaro.
Faces of Manjaro
Like all other Linux Distros, Manjaro also has delivered several versions or editions of the operating system. Let's take a look.
XFCE: For the users who want a reliable and fast desktop
This version is designed to give the perfect desktop environment. XFCE contains the traditional UNIX philosophy. This version of Manjaro meets all the requirements a user needs to properly work on a desktop.
It provides a range of full functionality for a desktop environment. Here you can surf through several available packages to set your own personal working environment.
KDE PLASMA: For those who require a user-friendly and fully customizable desktop
This version comes with a feature-packed and versatile desktop environment. KDE PLASMA offers an unmatched built-in interface to make a user-friendly experience and also allows to easily install new themes, widgets, etc.
ARCHITECTURE: Setup and Configure your operating system in every detail using the CLI
Manjaro Architect is a net installer that downloads the latest packages to keep your system always up-to-date after every installation regardless of your old install media.
Customizations offered by Manjaro Linux include.
Select your own Manjaro kernel.
Choose any Manjaro Brach.
Opt for the best desktop environment even if you have an old install media version. In Manjaro Architect you can install the base system even without the graphical user interface.
You can include any unconfigured desktop environment.
Select a default shell like bash, zsh or fish.
With mhwd choose your graphics drivers.
GNOME: A very modern and simple desktop
Breaking all the traditional concepts, Linux developers have introduced the GNOME version of Manjaro OS. This edition comes with a GNOME 3 desktop which allows the user to focus more on their tasks.
Every application is designed with care and is defined by guidelines which makes it more consistent to use.
In the End…
We can finally conclude that Linux Manajaro is a really impressive operating system and developers of Linux have given their best to make this operating system an ideal competitor of most famous OSs.
If you are thinking of shifting to Linux Manajaro from your current OS then this blog will help you to know better and choose better.