How to Install Flixanity on Kodi 17.4 | Kodi Krypton & Kodi Jarvis Guide
Flixanity is the rebirth of an older Kodi add-on KinKin which was the go-to add on back in its days. It is great to see many old and popular third-party Kodi add-ons revisiting from the past with a new look and improved features. In this guide, I'll quickly walk you through the steps to install Flixanity on Kodi 17.4.
Kodi Update: Kodi has recently released a stable update Kodi 17.4 Krypton. Quickly learn how to update Kodi in less than 5 minutes.
Reminder: Before You Go Ahead, Get Secure
Before you go ahead and use Kodi, it is advisable to download a VPN for your Kodi.
A VPN will:
Keep you safe and secure while you stream away and watch your favorite movies online.
Circumvent all ISP limitations and let you access unlimited media content.
Help you avoid warning letters and copyright/infringement notices.
Also, your video stream speed will increase and you'll definitely want that to enjoy more movies in lesser time. So don't wait up and download the best Kodi VPN today.
Just follow these brief steps to get secure:
Signup for IPVanish here and download it.
Launch the app and get connected to IPVanish server.
Open Kodi and stream your favorite media like movies and TV shows easily.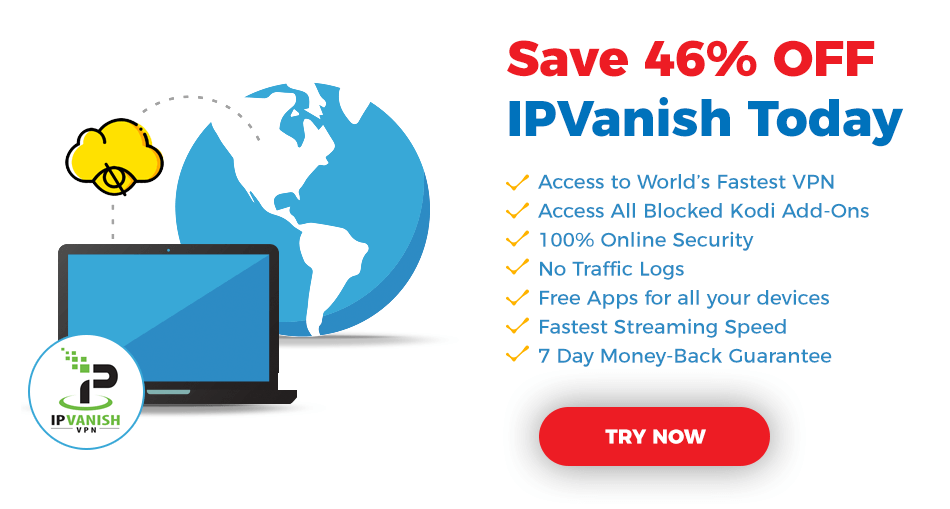 I highly recommend using IPVanish. It'll do the job as promised without burning a hole in your pocket.
Be a part of the Tier-1 VPN- IPVanish Today!
Now you're ready for Flixanity.
Flixanity on Kodi

Flixanity is a decent Kodi add-on for movies and TV shows streaming. With this Kinkin remodeled add-on, you'll get access to a variety of Live media content including movies from all kinds of genre ranging from contemporary to psycho-thriller, classics and beyond.
How Flixanity Works
Flixanity Kodi add-on uses scrapers which browse the web for available media content and present the list of stream sources on your Kodi interface. If you are a US resident, you must have used Flixanity.tv or Flixanity app to stream movies and TV shows to kill time at some point.
Flixanity add-on for Kodi lets you access all the content available on Flixanity site directly onto your Kodi app. If you own a Flixanity account, all your favorited and watched list will directly appear within the Flixanity add-on.
That's not all!
If you're using Kodi on a mobile device, you may have to think about your network strength while streaming Live movies. Flixanity shows the quality of stream next to the video source that allows you to pick the stream source best suitable for your device.
You know what it means?
Less Buffering and a pleasant Kodi streaming. Thank you, Flixanity on Kodi!
A quick question:
Are you just starting out with Kodi?
Check this how to use Kodi guide for covering all Kodi basics in under 10 minutes.
Now let me show you how you can get Flixanity on Kodi.
Look:
How to Install Flixanity on Kodi 17.4 Krypton
Launch Kodi app on your device.

Select Settings> File Manager> Add Source.




Double click where it says none and enters the Flixanity repo URL: https://archive.org/download/repository.streamhub and click OK.

Label the media file as Stream Hub and press OK.

Now from the main menu of Kodi, select Add-ons> Package Installer.




Select Install From Zip File> Stream Hub> repository.streamhub.zip.





Once the repo installs, you'll receive a notification. Select Install From Repository now.




Select Stream Hub Repository> Video Add-ons> Flixanity> Install.






Give it 5-10 seconds. A pop-up will appear on your screen with add-on enabled message.
The next part is pretty much the same. All you have to do is go back to your main menu and navigate to Video> Add-ons and you'll find all your Video add-ons for Kodi here.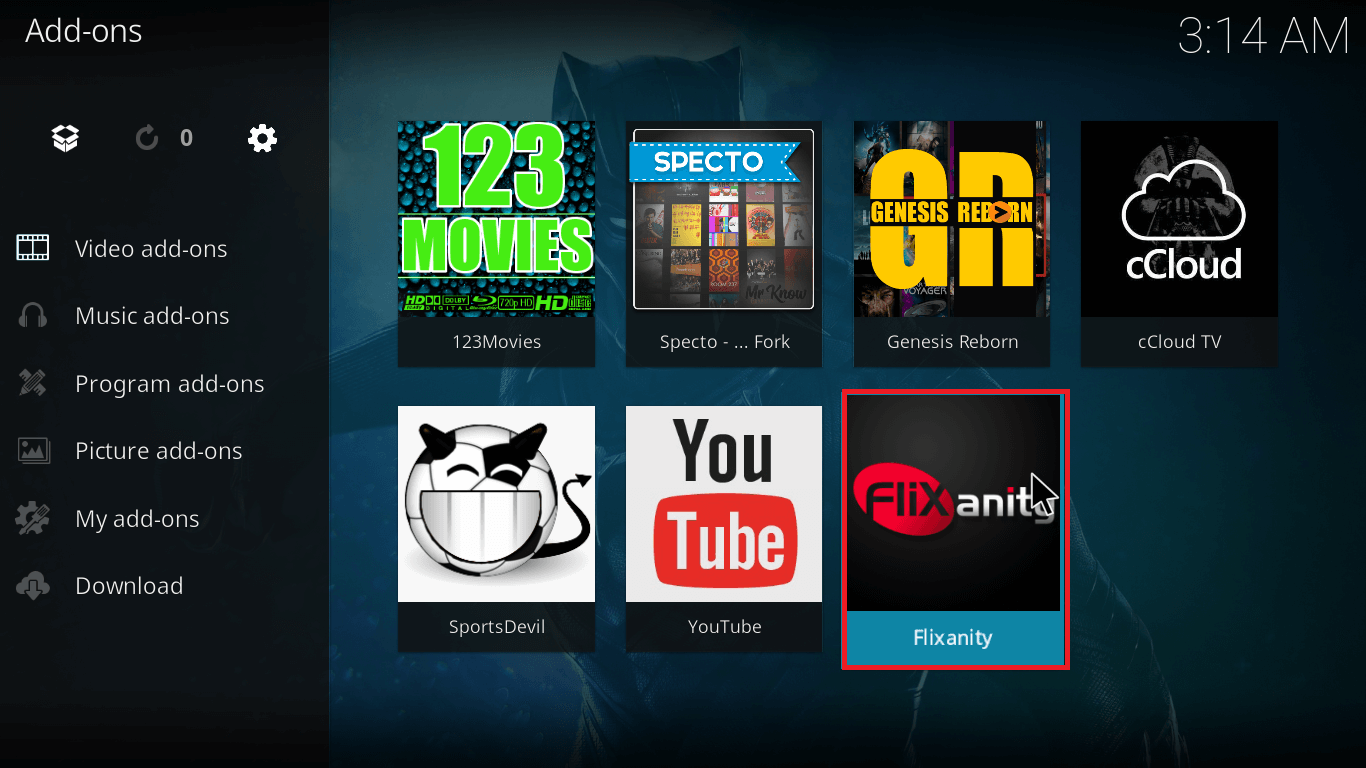 Now, I know some of you might be still in love with Kodi Jarvis.
While I'd personally suggest to move on and update Kodi, it is entirely up to you.
Flixanity is one of the add-ons that is still working on Kodi Jarvis. So here's the guide for Kodi Jarvis.
Steps to Install Flixanity on Kodi 16 Jarvis
Open Kodi on your app.
Select System> File Manager> Add Source.
Double click on and type the following URL: http://archive.org/download/repository.streamhub and click Done.
Label the media source path as Stream Hub and click OK.
Navigate back to home screen. Select System> Settings> Add-ons> Install From Zip File.
Select Stream Hub> repository.streamhub.zip. Wait for the notification.
Click Install From Repository/Get Add-ons.
For Helix, you'll find the option Get Add-ons.
Now select Stream Hub> Video Add-ons> Flixanity and click Install.
In less than 10 seconds, you'll receive the add-on enabled notification.
So, now you can enjoy classic and latest movies from Flixanity on Kodi 16.
Flixanity Not Working?
If you have difficulty installing Flixanity on Kodi, check that old KinKin repo is not installed on Kodi app. Remove the old repo and it should do the trick.
If there is some other error, don't post it on official Kodi forum as it is a third-party Kodi add-on. So, they won't be able to help you in any way!
Here's what you can do?
Leave your query in the comment section and Freaksense team will check it for you.
Disclaimer: Please note that freaksense community does not promote and/or approve of piracy in any way. How you use the information presented to you is ultimately your sole responsibility and you shall be accountable for the same. Also, we do not own any rights or have authority over the software, products and external links mentioned in this post.