Top 10 Best Alternatives for BlueStacks in 2020 You Should Try Now
In this post, you'll learn all about BlueStacks and the top 10 best alternatives for BlueStacks you should try now.
Have you ever wanted to run your Android mobile apps on your PC? Perhaps for a larger screen view or a better gaming experience? Or Maybe just to get all the work and play done on one gadget?
Well, then I am sure you must have tried or at least heard of BlueStacks. In case you haven't, allow me to enlighten you right here.
What exactly is BlueStacks?
BlueStacks App Player is a great mechanism that allows you to run your favorite Android applications and games on a bigger screen of your Windows or Mac PC/Laptop.
Once you've downloaded BlueStacks onto your system, you can configure it either with your facebook or twitter account or by using your google account. Logging in with Google Play account is more beneficial as you'll get instant access to all your favorite apps and games in one go.
Key Highlights of BlueStacks
Integration with Google Play
Multiple Operating System configuration supported
Fully customizable interface
BlueStacks is designed and developed in such a way that it provides you with a fully customizable environment. Supporting multiple languages, this app is a must have if you want to experience Android environment directly onto your Windows, Linux or Mac systems.
Latest Version of BlueStacks
BlueStacks App Player 3
This new version of BlueStacks has been designed especially for all the gaming enthusiasts. If you're a game lover, this is a must-have Android emulator for you.
HD Interface and better gaming experience
It aims to give you the best gaming experience ever. With BlueStacks App Player 3 on your system, you'll have a greater chance of being a gaming champion. How?
It provides a better control over the gaming interface with your mouse and keyboard coming into the play (no pun intended!).
You can now play your games in High definition with this app on your PC.
Dedicated App Center
With an access to your gaming habits and search history, the app center suggests the games suitable for you. Additionally, it also highlights the most popular games loved by other gamers.
Once you click on the game, you'll be able to read reviews, view screenshots and get more information about the game. If you like it, simply download directly onto your system and start playing.
Gift Center
Dedicated for game lovers, BlueStacks 3 has a gift center where you can get additional life, gems or treasures directly from the game developers. It'll make your gaming experience even more exciting.
BlueStacks Friends- Chat App
BlueStacks Friends is an inbuilt chat application wherein you can devise strategies and plans to win your next task within the game. After all, no competition or game is fun without friends.
State of the Art Gaming Platform
What differentiates a good game from a great game? It all comes down to the quality of graphics in your systems. With state of the art and patented technology, Hyper-G graphics APIs, BlueStacks 3 provides a gaming platform like no other.
Multi-Instance Functionality
Do you think you can multitask your games? Try BlueStacks 3 now! It comes with a multi-instance functionality where you can play more than one of your favorite games simultaneously. Now play clash of clans and Farmville at the same time with BlueStacks.
Automated Environment
To give you the best gaming interface ever, BlueStacks automate everything. From screen resolution to the size of your game screen, everything is optimized automatically so that your sole focus remains on your game.
Now, this was all about BlueStacks. Yes, it is very impressive! So why should you look for BlueStacks alternatives?
Why Should You Look for Alternatives for BlueStacks?
1. It slows down your system
If you don't have a high-configuration system, you'll regret downloading BlueStacks and might uninstall it after great frustration. Because this app player is a very heavy system and requires higher configuration, it might not be an ideal choice for everyone.
Also, it uses a lot of RAM which might slow down the other active processes.
2. You'll have to download additional apps
When you install BlueStacks, you'll also have to download additional apps that come bundled with it. These are some sponsored apps which are not optional. It leads to additional memory usage on your system.
3. It is not free, after all
BlueStacks is marketed and known as a freeware. Up until recently, it was but now things have changed. BlueStacks comes in two variants: One is a standard version which you can download for free, stipulated that you download the sponsored apps as well.
The other is a premium version for which you'll have to pay at periodic intervals.
4. Your apps will crash a lot
Recently BlueStacks has not been performing very well. When you try to run apps on the standard, i.e., free version, it tends to crash a lot ruining the whole experience of gaming or accessing apps on a bigger screen.
5. Not a good choice for developers
If you're a developer at heart, you'll want to customize your apps and software. Hard Luck with BlueStacks! Because in here you won't get much scope for customization within the code. For development oriented tasks, you'll be better off trying other emulators.
So now it brings us to the question "Is there any alternative to BlueStacks?"
When I got to know about BlueStacks and its relevant issues, I was curious to know about a better alternative to BlueStacks. Perhaps they are better-suited to my needs. So I researched over the Internet to find out the answer to above question.
And indeed, there is more than one alternative to BlueStacks.
Top 10 better alternative to bluestacks in 2020
1. Andy- Your Desktop Mobile | Free
Andy is one of the best alternatives to BlueStacks. It is compatible with both Windows and Mac Platform giving the user a great Android environment experience on a bigger screen.
Be it getting a message or using your snapchat, you can do all of this and more with Andy. You can also play your favorite Android games on desktop.
With Andy, you can also use your phone as a remote control for your apps and a joystick for your games. You can also sync your mobile and PC wirelessly with ease.
And that is not all
Andy comes with cloud storage support. So now you'll never be short of memory on your phone and PCs with your new desktop mobile-Andy.
Andy comes loaded with features and all are available at no cost. The only exception is Developer's support feature which is accessible only in the paid version.
Features
Full Android interface on your desktop

Compatible with both Windows and Mac

Integration with Google Play

Phone can be used as a Remote control or a joystick

OpenGL hardware supported

Camera and Microphone integration

XRM Support

Push Notifications for Desktop

Access to local apps.

X86 Native Applications supported

XBOX/PlayStation controller support

Keyboard mapper

Cloud Save option available

Developers Support-paid feature
All of these features make Andy a good free alternative to BlueStacks. With this freeware providing a truckload of facilities, you should look no more and download it now.
2. GenyMotion- Android Emulator | Free and Paid Both
For all the developers and programmers looking for an Android emulator, your search ends today with Geny. With over 3000 Android configurations, GenyMotion is the perfect choice for app developers. As it gives a platform well-suited to developers' needs, this is the best alternative to BlueStacks for them.
With Geny you get to choose from different Android Softwares starting from version 2.3 to the latest Nougat. As a developer, you can even set the RAM and other internal configuration for a particular Android device you are creating the app for. This will help you in easier and better beta testing of your apps.
Although Geny is paid, you can get it for free as well. Of course, the free version will have lesser features. Still, if you're a developer and want to test your apps on different Android devices, this is the best BlueStacks alternative you'll get.
Features
Great emulator for developers with more than 3000 Android configurations

A variety of plug-ins for Agile testing in development phase

Develop your own test cases with Java API & automate them with CL or Geny Plugin

Automate and Validate your apps with Geny

Lets your customers try apps even on mobile or desktop

Private beta testing available

Android on cloud platform also available with Geny

Webcam and Microphone integration for better testing

Compatible with Android SDK tools and Eclipse

Design friendly

Easy to communicate with unlimited screencasts

Launch a virtual device three times faster than the actual device

Cloning and Reset functions also available

Quick and efficient customer care support
GenyMotion is compatible with Windows, Mac and even Linux making it a good alternative to BlueStacks for Mac and other platforms.
3. ApowerMirror : Control Android/iPhone with PC | Free
ApowerMirror is basically a screen mirroring application with which you can control your Android or iPhone on your PC or Mac. This app works with devices having chromecast support in them. The best part is that it uses only a little of your system's RAM and won't slow it down.
Just download this app and you have your best free alternative to BlueStacks.
Once you've downloaded, the after task is quite simple. Just connect your phone to your laptop and you can screen the apps or games on the bigger screen. This app also supports streaming video, music, photos and other media files on a bigger screen with an option to view it in full screen or landscape mode as well.
If you're a Mac user but love to play Android apps, you don't have to root your phone. Just download this emulator and control your Android from a PC seamlessly. Be it checking a whatsapp message, snapchat or any other social media app, do it in an efficient and even better way this ApowerMirror.
Additionally, taking advantage of a keyboard and mouse in your Android games will give you a better control over the screen and you'll be manipulating the moves smoothly.
You can even record your phone screen or take screenshots from your PC quite easily making the user experience even better.
Features
Stream Music, Videos, and other media from Phone to PC

Compatible with both iPhone and Mac

Phone screen recording from PC

Take screenshots in a breeze

Control Android with Mouse and Keyboard

Sync App data

Available in three versions: Free, personal and commercial

Video downloader and converter

Free video to mp3 conversion

Free iOS transfer

Compatible with AirPlay

Mirror your iPhone and Android on a bigger screen
All above features and some more are available in ApowerMirror making it one of the best free alternative for BlueStacks.
4. YouWave Emulator- A world for Android on PC | Free and Paid Both
Immerse in the exciting world of Android on your PC with YouWave. It is one of the best alternatives to BlueStacks for Windows enabled PC and other systems.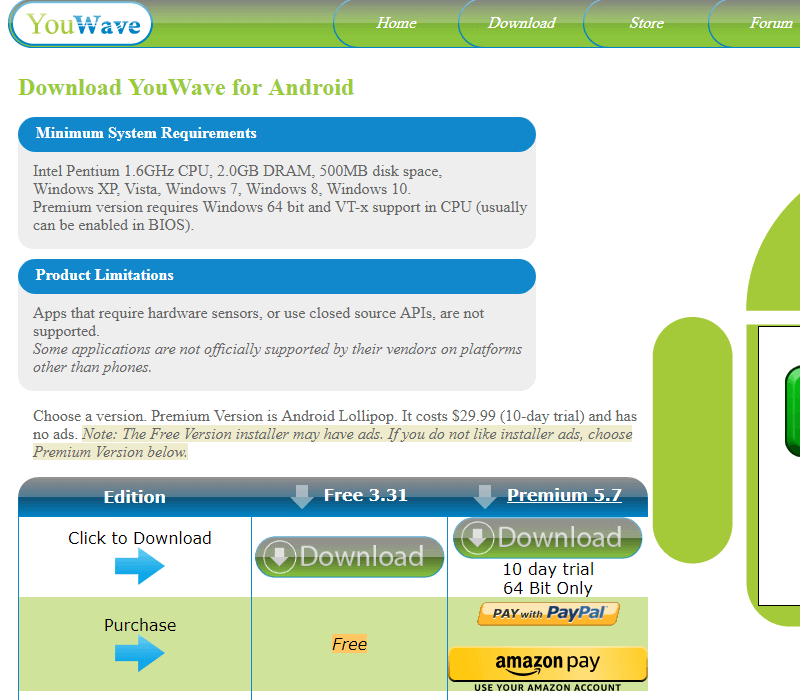 What makes it a better alternative to BlueStacks is the lightweight and more sophisticated platform it provides for the users. If you're a novice and not a developer who just wants to run their Android apps or games on a bigger screen, you can go for this emulator.
It comes in two variants- a free one and a premium (paid) one.
Youwave is compatible with Google Wallet and Paypal to download a paid app from Windows itself. You can also access your Windows local files from within the emulator.
Compatible only with Windows, this emulator is easy to install and experience thousands of Android apps on your PC.
Features
Compatible with Windows platform only.

Supports payment options like PayPal and Google Wallet

Access Windows local files from within the emulator

Easy to install and setup

Lightweight than BlueStacks

Supports non-ARM apps

Multi-language support

International Keyboard support

Multiple screen sizes to choose from
Paid Version Features
SD card supported

Dynamic rotation like phone

Multi-player online games supported

Supports Android Lollipop version

10 days trial period available
5. Nox App Player- Best Gaming Experience | Free
Nox App Player is another Android emulator that works by creating a virtual Android based tablet on your PC. It is compatible with both Windows and Mac. With Nox, you'll have a better Android experience by having more control over the environment.
Imagine playing your favorite Clash of Clans on a bigger screen with much better hardware and high-quality graphics. Also, this goes without saying that you'll have a better control over your game as well.
Based on Android KitKat, this emulator can be customized for a variety of options and comes integrated with Google App Store as well.
The best part is of course that you can use full features of this software without paying any price. Yes, it is a free software alternative to BlueStacks and may even be better.
Features
A freeware available on both Windows and Mac

Based on Android version 4.4.2 (KitKat)

User-Interface is easy and highly customizable

Comes with an intuitive interface

Compatible with x86 and AMD frameworks

Comes with an Assistive Utility features

Improve gaming experience by creating custom keys

Create custom skins for your Virtual Android

Google Play Integration

Login with Multiple Accounts

On-Screen buttons for volume control, GPS, and other basic tasks

Screen-Recording supported

Reliable and stable platform

Keyboard mapping for better gaming experience

Efficient to run very heavy apps and games smoothly.
A free alternative to BlueStacks loaded with features that will take your gaming to another level is a must-have.
6. Android x86- Run Android on your PC | Free
Making you feel as if you're running a PC with Android OS, Android x86 is a good alternative to BlueStacks. Started off as a project for porting Android platform on the x86 platform, this open source project offers full support for Android Apps.
It is also available free of cost. It is an ideal choice for a developer where you can even test the Operating System with Live CD.
Still a continued project, Android x86 is bound to get better with time. In the near future, it will have features like integration of LineageOS, hardware accelerated codecs and more.
Moreover, as a developer, you can customize the source code and make it just as you want it.
Features
Compatible only with Windows

An open source project and is thus free

Better disk installer

WiFi Supported with Graphical User Interface

Can co-exist with Windows

Supports external keyboard, mouse, and monitor

Complete support for Android apps

Mouse wheel

Additional features like Bluetooth, G-Sensor

Debug mode in busybox

Camera supported

Mouse wheel feature

Power and suspend feature

Battery status

Developer support

Large community of users online
7. AMIDuOS- By American Megatrends | Paid (Trial Available)
With AMIDuOS, you can run all your Android apps and games on your Windows PC, laptop or tablet easily. This emulator provides a full Android experience on your Windows PC as if it is a native OS for your device.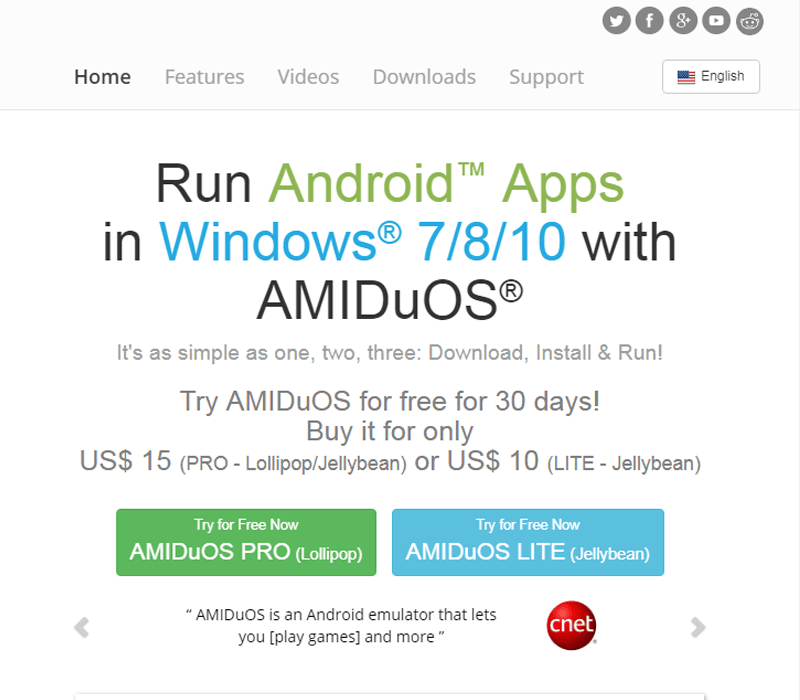 Having support for OpenGL and 3D acceleration, the performance is enhanced with this alternative of BlueStacks. SD card simulation is another feature that separates it from other BlueStacks alternatives.
It is available in two variants: AMIDuOS PRO and AMIDuOS LITE
Features
Compatible only with Windows

Simple and easy to install and run

Provides a crisp and sharp looking virtual Android interface

Comes preloaded with Amazon Appstore

Compatible to run ARM v7 apps

Supports OpenGL

Comes with 3D acceleration enhancing the performance

Optimizes battery of the system

Sensor Support included

Integrated audio, keyboard and camera for better functionality

Available for a 30 days trial version

Multitouch and gesture support enabled

Better Android tablet experience

SD card emulation supported
8. KOPlayer- Gamer's First Choice of Android Emulator | Free
KOPlayer is a free alternative for BlueStacks. Meant for Game Lovers, this emulator using the latest technology from x86 architecture to provide a better and high-quality Android Playing experience.
The main aim of this emulator is to enhance your gaming experience where you can play your favorite games from a wide variety of genre on a bigger screen and also supports direct apk file downloads.
Let's take a quick glance through some more features of this free BlueStacks alternative.
Features
Compatible with all Windows devices

Available for free of cost

Comes with latest technology from x86 architecture

Free to play downloadable content available

Supports more than one million Android games

Enhanced performance and reliability

More stable

Crisp and sharp display options

Keyboard Mapping

Supports Multiple Accounts

Video and screen recording

Integration with Google Play

Direct .APK files download support
9. MEmu- Play Android Games on PC | Free
MEmu is an exceptionally well alternative for BlueStacks. It enhances the Android gaming experience and is known to provide a better environment than some well known BlueStacks Alternatives.
With MEmu you can experience many exclusive titles that you find on any Android platform. It supports Jellybean, Kitkat and Lollipop versions simultaneously.
If you think this was all, then you're in for a surprise.
It has an array of features for giving you a superb video gaming experience from your phones directly onto your PC. And all this is absolutely free.
Features
Compatible with multiple Android Kernels

Provides a higher degree of performance

Superb experience for video gaming

Supports multiple hardware configurations

Most popular games are supported

Supports Multiple Instances

Can co-exist with other emulators on your system

Keyboard, mouse and joystick support for better gaming experience

Direct .Apk download supported

Controls modification available

XBox 360 controller available

Available to download at no cost

Works on all Windows devices
10. Droid4X- Your Virtual Android Desktop | Free
Droid4X is one of the most lightweight Android emulators available for Windows and Mac Systems. This emulator may as well be considered as one of the best free alternatives for BlueStacks available. As a freeware, it doesn't lack in any of the top features.
A battery-friendly emulator, it consumes less power even when running the most power-hungry apps or games. Converting your PC screen to a virtual Android Desktop, this emulator deserves a thumbs up.
Let's see what else this freeware has to offer:
Features
Available as a freeware. i.e., no need to pay for any of its features

Compatible with Windows and Mac

Offers excellent degree of performance

Compatible with x86/ARM applications

Multi-touch supported

Less power consumption

Customize your location with Android GPS

Web Browser support

Control phone/tablet from PC

Lightweight emulator

APK download supported
All in all, you can give this emulator a try and put it as a favorite on your personal list of free best alternatives for BlueStacks.
Thoughts in Summary
Coming to a halt with this list of top 10 best alternatives for BlueStacks, I wish that you'll find an end to the search for your ideal alternative here only.
For anything else on your mind, reach us out in the comments below.
At Freaksense, we always reply to you. 🙂