How to Send Large Files Without Registration Through Firefox Send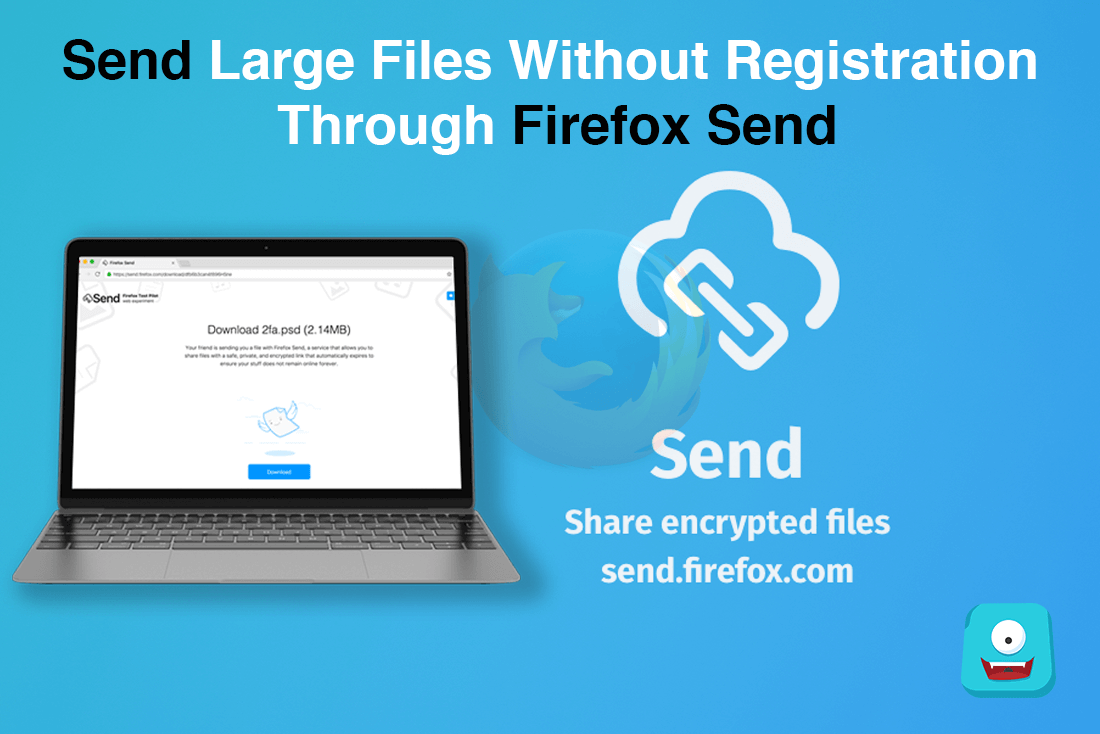 "In this post, I'll share about the beta application from Firefox called Firefox Send that allows you to share upto 1 GB of self-destructive files without any registration process."
In the year of 2017 when we see technology moving ahead, there's still this annoying size limit when it comes to sharing files over email. Due to various security reasons, email providers allow a mere megabytes of file transfer.
Most of you may argue that we do have cloud based storage providers.
Yes, Indeed.
However, if we talk about cloud service providers, like Dropbox, Microsoft One Drive and more, then there's a registration process and other formalities that one has to consider. Then, you have to manage permissions and also, there's a risk of getting the shared link transferred to other people.
So, what about privacy? You don't want to hamper that.
Hence, I am going to share a simple solution with you in this post.
Firefox Send
Mozzila's test project Firefox send is an experiment available for everyone to use and unlike Dropbox that charges after a certain storage capacity is reached, it is free.
"Send files through a safe, private, and encrypted link that automatically expires to ensure your stuff does not remain online forever."
Furthermore, all the files you'll upload are encrypted. It means even Mozilla can't access the contents of the file. The encrypted format of the file is uploaded onto the Mozilla server and you are presented with a download link (that's also encrypted).
You may copy the link and share it with the person you wish to have access for the file. Remember, there is no point sending the link to multiple people.
After the file is downloaded once, Mozilla server will automatically delete the file.
Why are the files called Self-Destructing?
Have you used Snapchat? As snapchat stories vanish after 24 hours, likewise all files uploaded on Mozilla server are deleted after 24 hours or after they are downloaded. If you wish to remove it earlier, you can using the Delete file option.
For this reason, the Send tool from Firefox is also called Snapchat of file sharing. And think about it from security perspective.
As soon as the file downloads, the sharing link gets disabled and the file is instantly removed.
Amazing, isn't it?
Now let me quickly show you how you can share files without registration through Firefox Send
Steps to Share Files with Firefox Send
1. Open the link https://send.firefox.com/ .
2. Either browse the file using "Select a file to upload" or drag and drop the files directly for upload.
3. Now once the upload is complete, you'll receive a link for file sharing.
4. Copy and share the link.
5. Once the link is accessed and file is downloaded, Mozilla firefox will remove the file from its server.
For more details you can visit this official tutorial from Firefox.
What if my file wasn't downloaded?
Don't worry. If your file is not downloaded within 24 hours, the link becomes disabled and in any case, the file is deleted as soon as 24 hours are up.
Things to Keep in Mind Before Using Firefox Send
Remember, it is called an experiment for a reason.
You have to keep a few things in mind before you use this secure file sharing tool.
The maximum file size limit is 1GB. Try more and your browser will crash.
Although Mozilla claims that this tool works great with all Modern browsers, that's hardly the case. This tool doesn't require any add-on. However, you should definitely use it with the latest version of Firefox browser for best and speedy results.
Another thing you must keep in mind is to share the download link with just one person. You may call it a limitation of this tool. But in reality, it is the beauty of this tool. After a single download, your file gets deleted.
If the person you've shared the link with doesn't access it within 24 hours, the link is disabled, In the sense that the file is automatically removed from the Mozilla Server after completion of one download or 24 hours whichever is earlier.
Send Files Without Registration Through Firefox Send: Final Verdict
Mozilla has tried to experiment with this new secure file sharing tool called Send to share upto 1GB size file with anyone across the world for free of cost. Using high-level encryption tools, you can rest assure your files are safe and private data is secure from hackers or malicious users. FYI, even Mozilla can't access the contents of your encrypted file.
That's how strong-level encryption it is.
The only drawback I felt was its incompatibility with some of the mobile browsers. For best results however, just download Firefox and you'll be good to go.
The app in itself is a great tool if you don't wish to get into the hassle of registration and file size conflicts. So, I'd highly suggest you to move over to Firefox Send and try it now.
Don't forget to share your experience in the comment section below.
Happy Sharing!