Which Antivirus is Better – Avast or Norton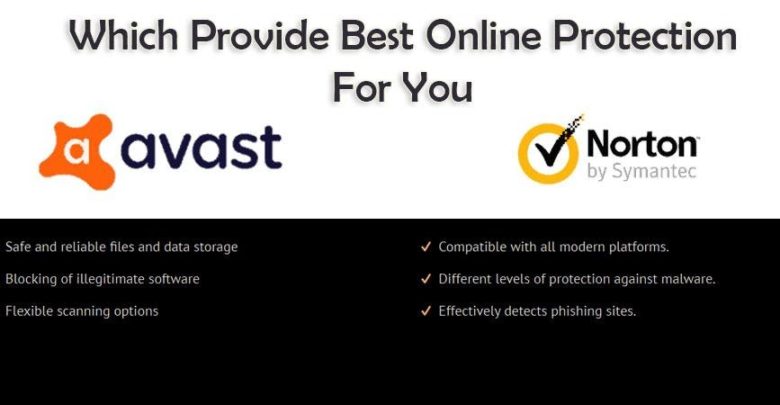 We are living in the world of technology, almost every person using technologies in urban as well as rural areas. As we know everything has advantages and Disadvantages and our data is on the verge of exposing if we are not using greater protection.
If you need better online security then we should better protection. For online protection, you have the great luxury of using antivirus. So today we will discuss the two best Antivirus available in the world Avast and Norton. We will compare and check which the best antivirus we have for specific uses is.
Malware Protection with Avast
Avast Antivirus is a family of cross-platform internet security applications developed by Avast for Microsoft Windows, macOS, Android, and iOS. Avast Anti-Virus get rid of the potentially dangerous files from your PC's. Overall, Avast detected most of the samples, which has a very good result.
Avast Antivirus is a good antivirus solution – as long as the price you're paying is "free". Avast believes everyone has the right to be safe online, which is why they offer free antivirus to millions of people around the world.
Avast Free Antivirus scans and cleans the viruses currently on your device, and stops future viruses and threats from infecting your system. Its basic version provides a lot of decent features that are probably enough to protect the average computer. You can get all of the features of Avast's premium plans with better and cheaper options.
If you want to use Avast in a business setting, you must upgrade to Avast Premium Security, which replaces both Avast Internet Security and the all-inclusive Avast Premier. Avast Internet Security 2019 comes with advanced features, solid malware protection, and a robust firewall.
It may slow your computer when scanning, but it does a great job of protecting users. Avast's product development has made significant advances in 2020. Avast has grown a lot in 2020 and people are engaging in it more and more.
World-Class Protection with Norton
Norton Antivirus is anti-virus or anti-malware software product. Since 1991 Norton is doing this kind of work. It uses a signature to identify the virus. Norton Antivirus runs on Microsoft Windows, Linux, and macOS. Norton Mobile Security is the fastest and user friendly and is used by most individuals.
Norton is said to be one of the largest companies providing antivirus. Also, it comes in the top ranking of the best antivirus companies on the Internet. It shows how good this company is and is providing such good service to its beloved customers.
To date, there is not a single customer who bothers about using Norton products, but anyone who has used Norton products has happily gone back and has also given reviews on the website. Norton Antivirus somehow prevents hackers, it provides complete protection against hackers.
Norton Antivirus can protect your computer with many tools so that no hacker can come. It is really hard to get into your PC or smartphone when Norton is there.
Which antivirus is better: Avast or Norton?
Norton 360 is the best overall antivirus software available. Norton is a better option because it offers more security-related features and additional utilities in its security suites than Avast. Independent tests prove that both software excelled in terms of impact on system performance, but Norton provides better anti-malware protection than Avast.
Norton Mobile Security is the fastest and also has great features that Avast doesn't have. It has the most impressive Device Security, Cloud Backup, and Parental Control features. It has a 100% protection rate against all types of malware. It also doesn't interfere too much with the user's day-to-day activities.
The rates of getting a subscription to Norton is also low, but you can afford Avast using Avast Internet Security Coupon codes Customer Support is good of both of them but once you drop a message to the team of Norton then they will quickly reply to you whereas, Avast team takes a time to reply. Overall, Choosing Norton is one of the best options for you all.