Carevoyant Private Duty Nursing Home Care Software – A Complete Review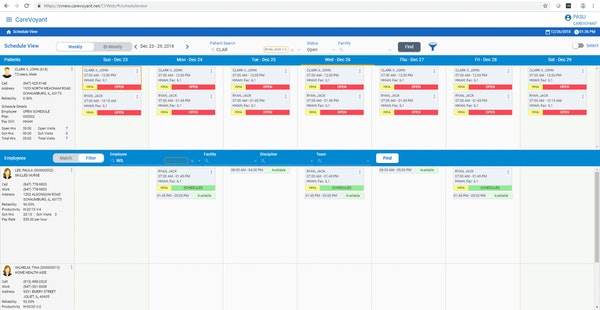 CareVoyant is a specially designed software solution that caters for private duty home care agencies.
CareVoyant has enhanced its reputation providing effective solutions in catering to its clients' needs, especially in the areas of scheduling, finances, notifications, reports, messages, and more. Having this software from CareVoyant is worth the investment as will be shown in this in-depth review.
CareVoyant home care software is a cloud-based solution that can be customized to your specific needs as a health care provider. It serves the needs of small to large scale care agencies. This software helps health care agencies ensure the comfort and wellbeing of the patients under their care.
What are the benefits of this software?
1. Integrated Software
With CareVoyant home care private duty software, you can significantly downsize your software expenditure as everything you need is integrated into one software.
CareVoyant software can handle functions like billing, payroll, scheduling, accounting, and authorization.
2. Enables Growth
This software solution capably meets up with the growing demand for private health care services. You can trust CareVoyant to be able to manage home care services that cover multiple geographical locations. The software is cloud-based and allows your agency to pay close attention to growth without worries about hardware costs.
3. Easy access to data
CareVoyant home care private duty software saves your agency the stress of searching through various systems looking for patient information.
All your client documents are placed in a single system. You can easily draw out the clinical and financial information of a patient.
4. Easy to configure
CareVoyant has designed its software for seamless operation. It has a standard-setting, and you can also configure it along with the needs of your organization.
It's custom features allow you to edit pay rates easily, create custom clinical forms, and schedule effortlessly.
5. Compatible with mobile devices
CareVoyant home care software comes with CV Intuitive, which allows health care staff to document patient information on a tablet.
It also has a CV mobile which works on all smartphone devices. CareVoyant also has a Telephony solution in case of limited connectivity.
6. Effective notification system
This health care software has a push notification system that alerts you on events or schedules. The software will also quickly detect missed visits, expiring authorizations. All this information will be displayed on the dashboard to monitor your performance.
Features
CMS Compliance
Automated Scheduling and Staffing
Reporting
Comprehensive Billing and AR
HIPAA Compliant Messaging
Mobile Solutions for Point of Care and EVV
Single System of Record
Operational Efficiency with Real-Time Exception based
Management Tools
Integrated software
Billing & Accounts Receivable
Service Authorization
Clinical & Point of Care
CV Miles
Schedule Monitor
CV Message Cente
Family Portal
Employee Portal
Events & Alerts
How Much Does this Homecare Solution Cost?
CareVoyant offers a free trial for their software. You can also get a quote-based plan by contacting the vendor. The company provides pricing information on request.
Customer Satisfaction
Many customers who have used CareVoyant software are happy with the experience. The software is effective and reliable for private health care agencies. The company also has excellent customer service that quickly responds to calls and emails.