3 Main Questions About Microsoft AZ-303: Microsoft Azure Architect Technologies Exam to Fully Understand It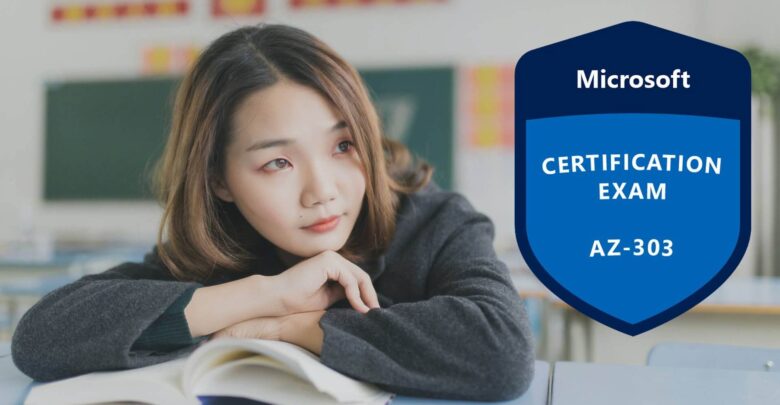 The AZ-303: Microsoft Azure Architect Technologies exam is one of two qualifying tests that lead to the achievement of the Microsoft Certified: Azure Solutions Architect Expert certificate. The successful completion of this certification exam demonstrates to your current or potential employers that you possess sufficient competency to make recommendations for the stakeholders and translate the business needs into reliable, secure, and scalable Cloud solutions. If you are considering taking this test soon, read this article carefully, as you will find a lot of useful information in it that will help you ace this exam with ease!
Who Should Take Microsoft AZ-303 Exam?
The Microsoft AZ-303 exam is designed for those professionals who have some level of experience in designing and implementing solutions running on the Microsoft Azure platform. These individuals must possess the intermediate-level skills for Azure administration and be conversant with Azure development & DevOps processes. Besides that, as a candidate for the AZ-303 certification test, you should have an advanced understanding of IT operations, including business continuity, identity, networking, security, budgeting, disaster recovery, virtualization, data platform, and governance.
What Details Are Included in Microsoft AZ-303 Exam?
Just like the majority of the Microsoft certification tests, AZ-303: Microsoft Azure Architect Technologies is made up of 40-60 questions. The time allocated for the completion of exam questions is 3 hours or 180 minutes. The content of the test revolves around the following topics: Azure infrastructure implementation & monitoring; implementation and management of data platforms; implementation of management & security solutions; implementation of solutions for apps. To nail the exam, the students are required to reach the passing score of 700 points on a scale of 1-1000. The test is available for the learners in four languages, including English, Japanese, Simplified Chinese, and Korean. To register for the exam, you will need to pay the fee of $165.
What Career Path Can You Pursue After Passing Microsoft AZ-303 Exam?
As the name of the certification exam suggests, the main role that Microsoft AZ-303 prepares you for is a Microsoft Azure Architect.  As such a specialist, you will be responsible for developing solutions, implementing projects, and setting up monitoring systems for the companies with the use of the Microsoft Azure platform. You may also be involved in the definition of solutions that meet the needs of your customers, creation of proposals for the use of Azure, presentation of recommendations to executives, and designing of infrastructure upgrade plans. Moreover, completing this test enables you to work in the related job roles, such as a Cloud Architect, a Solutions Architect, a Data Architect, a Cloud Developer, and a Big Data Solutions Architect, among others.
The position of a Microsoft Azure Architect allows you to earn from $85,500 to $201,000 per year, as estimated by ZipRecruiter.com. The average pay that the certified Azure Architects can count on is $152,094 per annum. If you are still looking for the reasons to take the Microsoft AZ-303 certification exam, these figures must persuade you!
Conclusion
The AZ-303: Microsoft Azure Architect Technologies exam can open up extensive career opportunities and benefits for you. So, what are you waiting for? Register for this certification test right now and build your career in the Microsoft Azure domain!